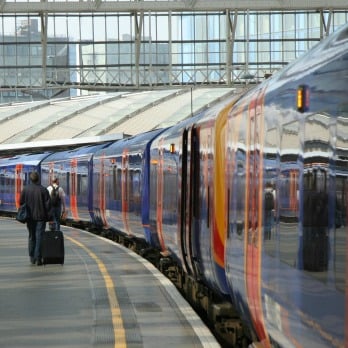 Hard-hit rail commuters face further misery, as it's been revealed some season tickets could go up by 11.2% in England next year.
The July retail prices index (RPI) inflation measure, which is used to determine the following January's annual rise for regulated rail fares, which include season and saver tickets, rose to 3.2% last month from 2.8% in June, the Office for National Statistics says.
The average fare increase in England is calculated by adding 3% to July's RPI. In Scotland it's RPI + 1%. Wales has yet to set a figure for its increase.
This means rail users in England face an average increase of nearly 6.2%, while the figure is 4.2% in Scotland.
However, fares can go up by a further five percentage points as long as they are balanced by cuts on other tickets. This could mean 11.2% rises for some but much lower rises for others.
These figures are just averages for now. Actual prices for each route will be announced later this year.
In January this year, rail commuters suffered a 6% average increase in regulated prices (see the Rail fares to rise MSE News story).
Unregulated fares, which include cheap advance tickets and peak time tickets, are determined by train companies rather than the Government. They will be set later this year.
Larger rises
The formula for calculating 2012's regulated rises was increased to 3% on top of RPI from 1% above RPI as part of the Government's plans to cut subsidies and make passengers shoulder more of the costs of rail travel.
Although inflation is falling back from its previous peaks, which means the rises should not be as high as last year, the Government is coming under pressure to rethink the formula for setting fares.
Unions, transport campaigners and rail passenger groups have today launched a day of action at several stations to protest at "massive" fare increases and cuts to jobs and services.
Stephen Joseph, chief executive of the Campaign for Better Transport, says: "If the Government sticks by its policy, rail fares will rise three times faster than salaries.
"With the economy flatlining, this is untenable. The Government knows it cannot continue to hit commuters."
Cutting costs
Here are our top tips for cutting the cost of rail fares (for more, see our Cheap Trains guide):
Buy in advance. Most train companies put tickets on sale 12 weeks ahead, so the earlier you book, the more chance you have of getting one of their cheap advance tickets.


Two singles can beat a return. If you're going on a return journey check if two singles are cheaper. This won't always be the case but it's worth checking.


Get a railcard. Frequent travellers should consider a railcard, if they qualify for one. Those aged 16-25, the over-60s, those with disabilities and adults who travel with kids may all qualify. Most railcards cost £28 a year (£20 for a disabled person) and gets the holder a third off many fares.


Split your ticket. Instead of buying a London to Sheffield ticket for example, if the train stops in Derby, check whether it's cheaper to buy a ticket from London to Derby and a second ticket from Derby to Sheffield. It's perfectly legal as long as the train stops in that intermediate station. Use our free TicketySplit iPhone app, or mobile site to find out if you can get a cheaper walk-on single fare by breaking down your journey.
Inflation surprisingly up
Meanwhile, the consumer prices index (CPI) rate of inflation, which doesn't include housing costs, rose to 2.6% in July from 2.4% in June.
The ONS says the unexpected rise in inflation was driven by hefty hikes in air fares, while there were fewer discounts from retailers who had already slashed prices in June to shift stock amid the wash-out weather.
It says air fares, which are highly seasonal, rose 21.7% between June and July – the largest increase since 2004.
Travel companies have recently reported an increase in demand for foreign holidays as people look to escape the wet start to the British summer, while there have been anecdotal reports of people leaving London to escape the Olympics.
July also saw the record smallest monthly fall in prices in footwear and clothing prices after retailers brought forward their summer sales to June.
A Treasury spokesman says: "Inflation has halved since its peak in September but any increase is disappointing.
"The Government knows how tough things are for families at the moment and that is why we have reduced income tax, and frozen both council tax and fuel duty."
Additional reporting by the Press Association.