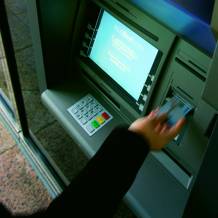 Halifax and Lloyds TSB customers have reported that they cannot access their cash from ATMs, while online banking isn't working and even debit cards are not working in shops, on one of the biggest party nights of the year.
Angry customers of the banks - both part of Lloyds Banking Group - used Twitter to complain of problems, beginning late this afternoon.
One user, amaire44, tweeted: "Entire Lloyds TSB system down. No one can get any money in or out. Online not working either!"
Many other customers have experienced problems, with caroline253 stating: "Everyone going out tonight - Lloyds and Halifax cards are down and won't let you draw money out."
We have been unable to get a statement from Lloyds or Halifax regarding the extent of the problems or when they expect the issues to be solved.
However, both banks' Twitter accounts have been responding to annoyed customers, with Lloyds saying: "We're aware that customers are experiencing problems at present and are looking into this."