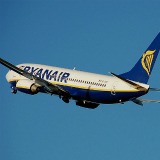 Ryanair has been ordered to pay costs to passengers stranded because of the 2010 volcanic eruption in Iceland.
The budget airline lost a landmark court case after it tried to escape its obligation to pay for passenger care while they wait for a delayed or rescheduled flight (see the Flight Delays Compensation guide).
Ryanair says the result could lead to a rise in air fares.
The European Court of Justice today reaffirmed rules which state airlines face an obligation to provide care, even in such "extraordinary circumstances". The eruption of the Eyjafjallajokull volcano left millions of passengers stranded because it was too dangerous to fly through the ash clouds.
The court gave its opinion after one Irish passenger was stranded in southern Portugal for a week during the crisis and demanded compensation of almost €1,130 (£970).
What are your rights?
When a flight from an EU airport, or on an EU airline that lands at an EU airport, is delayed by more than four hours, then airlines must look after you until that flight departs. This means they must pay for your meals and, if necessary, for accommodation.
This rule about care also kicks in on delays of between two and four hours, depending on the length of the flight. It applies regardless of the reason for the delay, even if it is out of the airline's control, such as a natural disaster.
For delays over five hours, or for cancelled flights, passengers are also entitled to their money back or a new flight. If they choose the money back option, they forgo their right to care. Today's ruling was about care, not money back for flights.
Ryanair says it paid out €26.1 million (£22 million) to stranded passengers, but also refused many claims, citing their "excessive" cost. The court said passengers can only claim "reasonable" costs.
'Air fares to rise'
A Ryanair spokesman says: "Ryanair regrets the decision of the European Court which now allows passengers to claim for flight delays which are clearly and unambiguously outside of an airline's control.
"Today's decision will materially increase the cost of flying across Europe as airlines will be obliged to recover the cost of these claims from their customers."