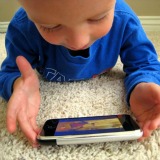 Two boys racked up a mega £3,200 mobile bill playing a seemingly innocent game on an iPhone belonging to their dad, who is an England international rugby star.
One man got smacked with that huge shock after his six & eight-year-olds bought their virtual farm animals a virtual mountain of food, with real cash, at £70 a pop.
The horrific bill highlights the ease in which kids can blow a fortune on devices where users have failed to tighten security settings.
Often, it costs little or nothing to download a game. But the true horror comes from charges for additional features, known as in-app billing, once you or your kids start playing.
Yet when we asked the major providers of mobile purchases, Apple, Blackberry and Google (which runs Android software) refused to answer or take responsibility for why it is so easy to spend money without putting in a password, especially as the default settings are often the least secure. There is more security on a Windows phone.
We've included tips on how to limit spending on Android, Apple's iPhone and iPad, on a Blackberry and on Android devices, further down this story.
Have your kids racked up a mammoth bill? What apps were they using, and how much were you charged? Let us know in the forum discussion.
£3,200 in three hours
England rugby player Sam Vesty revealed how his two sons managed to generate a bill of £3,200 in under three hours.
Speaking to BBC Radio 5 Live (listen to the 5 Live clip), Vesty explained how his boys, aged six and eight, were playing a free virtual farm game which used in-app billing to charge users for extras.
Vesty became aware of the charges after receiving an email from Apple's iTunes store billing him for a "mountain of food" for £69.99. More was to come, as his kids had purchased 54 of these "mountains" in just three hours.
He said receiving the bill was "a nasty shock", but admitted letting his children use his smartphone unsupervised.
Though the app required users to put in a password for purchases, he thinks the boys memorised it.
Luckily, he says iTunes refunded the money, but warned it would not be so lenient if the children did the same again.
Other examples from our forum include Mae's seven year-old daughter, who says she managed to run up a £250 iTunes bill playing Treasure Story on her father's iPad.
"We had no idea it could take money without asking or warning us," she says.
Firms fail to explain why security so lax
The problem with in-app purchases is kids often only need to memorise one password to spend. And as even 6-year-olds are tech-savvy these days, they often know their parents' passwords without their parents' knowledge.
Depending on your device's settings, they sometimes don't even need the password as a user can access chargeable services with no security checks if someone has recently entered their password.
When asked whether they recognised this as a problem, Apple and Android refused to answer the question directly. Blackberry didn't even bother to acknowledge our questions.
Martin Lewis, MoneySavingExpert.com creator, says: "These big mobile operating platforms make hundreds of millions of pounds flogging apps.
"Apple especially makes a play of only allowing approved apps in its store. So why does it allows games that can be targetted at young children to charge such ridiculous amounts for in-app purchases?
"These big companies need to take some responsibility, yet they can't even be bothered to answer the question. So don't trust these companies to look after you, you need to do it yourself."
Prevent MASSIVE mobile bills
Depending on your phone make and/or model, there are a number of precautions you can take to limit your chance of being a big hit with a big bill:
Protect your passwords. Children are smart — they can remember passwords and Pins. There have been countless reports on the forum from parents whose children have memorised passwords and used their accounts/credit cards. To stop kids racking up a big bill on your device, change passwords regularly and make sure they are always hidden from children if you don't want them to use it.


Always supervise your child. Ensure you know what he or she is downloading, and any extra costs.


Restrict in-app purchases with a password/Pin.

Apple. Tap Settings > General > Restrictions, then choose whether you need to input your password every time you make a purchase, or whether writing it once means you don't need to do again for 15mins.

Android. Set a Pin with your Google Play account. All purchases will then require the Pin. Devices don't come with this feature already activated, so make sure you do it before giving your phone to a child.

Blackberry. Making in-app purchases on a Blackberry is possible once you've logged in with your Blackberry ID and password. You will stay logged in for 20 minutes after entering the password. As far as we can see, there is no way to disable this. Blackberry has not answered our calls so this information has come from its website.

Windows phones. You can set up 'Kid's Corner' (but it's not the default setting), which gives the child their own phone area within your handset, with restricted access to your device and certain apps/websites/services. In-app purchases are blocked, as is access to the rest of your phone (messages, contacts, emails etc). Nevertheless, you always need to enter a password to buy anything.


Use parental controls on your device. Ask your mobile network provider about the financial and parental controls available on your device. On pay-as-you-go plans, for example, you can block certain services. Contact your provider straight away if you get an unexpectedly high bill.


Unlink your credit/debit card from your account. When using iTunes, you can purchase vouchers for your account instead of having a credit/debit card linked to it, so you can't automatically purchase a service.


Ask your mobile provider to cut the bill. If you've been strung by a massive charge, contact your mobile provider and ask it to refund the money as a gesture of goodwill. It may not work, but you won't know until you try. Take this tweet from @missy_bee: "My son spent over £2,000 on apps on the iPad but when I contacted Apple to explain they were brilliant and refunded the lot."
Regulatory action
The ease at which children can purchase extras, often for huge sums, has prompted regulator PhonepayPlus to warn parents against letting kids use smartphones and tablets unsupervised.
It witnessed a three-fold rise in the number of complaints about in-app billing last year.
Paul Whiteing, chief executive of PhonepayPlus, says: "Smartphones in children's pockets can burn holes in parents' wallets, so we are working with partners across the industry and other agencies to prevent this."