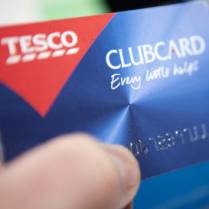 Tesco has called in police to investigate a possible breach of data after MoneySavingExpert.com revealed a spate of stolen Clubcard vouchers from online accounts. We are urging ALL 16 million users of the supermarket giant's loyalty scheme to check their accounts now.
Clubcard holders have been emailing us and taking to our forum and Facebook pages, and our Twitter account, to complain about vouchers mysteriously going missing over the past few weeks, but the number of complaints has rocketed since we first published this story at midday today.
At that point, Tesco was saying very little, but at 4.30pm today, it told us it had contacted police to investigate.
Users have reported:
Logging into their Clubcard online account, only to find hundreds of pounds worth of vouchers missing.
Being told by Tesco customer service staff that vouchers were spent miles away from their home.
Being unable to log into their accounts.
Being told the name on their account had been changed.
Some claim their accounts have been hacked.
Check now and ask for a refund
Dan Plant, MoneySavingExpert.com web editor, says: "MoneySavers LOVE Tesco points, and often save up masses to pay for all sorts, from holidays to wedding rings, at a third or quarter of the normal price.
"That makes these reports a huge worry for anyone planning ahead that way. Urgently check your online account and, if anything's awry, get onto Tesco to let it know, and tell us too to help us investigate further."
To check your Clubcard balance online, sign in. Once logged in, click on the 'Clubcard' tab, then select 'My Clubcard account', where it will show you your current points total and how much you have to spend in vouchers.
Tesco has asked any affected customers to contact its Clubcard customer services team on 0800 591 688. When you contact it, ask for your vouchers to be credited back. We have heard reports from Tesco customers that the supermarket is recrediting many accounts.
You can also email problems you've had to news@moneysavingexpert.com. We will pass on any details we get to the police, via Tesco.
If you have been a victim of fraud, you can report the issue to Action Fraud as well.
Tesco alerts police
A Tesco spokeswoman said this afternoon: "We have launched a thorough investigation into a small number of incidents and referred the matter to the police.
"In the meantime, we'd like to ask any customers who believe they're affected to contact us directly so that we can make sure their accounts are up to date."
Tesco has admitted that anyone with a Clubcard can use another person's Clubcard voucher, which can allow fraudsters to use other people's rewards.
Last week, the supermarket giant sent what looked like a generic email to customers, giving tips on how to identify whether or not an email is genuinely from the supermarket.
The message was sent after we had alerted it of MoneySavers' stolen Clubcard vouchers. It led one forum user to comment that Tesco seemed to be worried about something.
Customer concerns
Heddwyn James, an independent financial adviser from South Wales, contacted us to say he'd had around £233 worth of vouchers taken from his account last week.
On receiving his quarterly vouchers from Tesco, he went online to check his balance. But he found all his vouchers had been spent a few days earlier.
Heddwyn rang Tesco, which implied he must have given his personal details out, but he is adamant that's not the case.
The retailer has now said it will re-credit the missing vouchers to his account.
Heddwyn says: "If I didn't get sent these vouchers in the post, I wouldn't have even checked my online account. I was completely oblivious to the problem.
"I've managed to rectify it now, but hopefully my story will spur others into checking their accounts."
Meanwhile, forum user cwylee told us: "Today [7 February] I went to log into my account, as I know I have some vouchers that expire at the end of this month, to find that nearly £250 worth of vouchers had gone. They were spent on 23 January and one is still processing from 25 January."