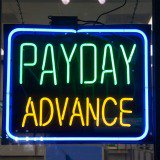 Consumer campaigners want a clampdown to clean up the "irresponsible" credit industry after finding nearly a quarter of people who take out expensive payday loans are using them to plug other debts.
Which? says "desperate" borrowers who find themselves locked out of mainstream credit get sucked into a vicious cycle of high-cost loans (see our payday loans guide for help & cheaper alternatives) as they try to meet their daily living costs.
It found 24% of payday loan borrowers were using the cash to try to pay down other debts.
Payday lenders charge fees of about £35 for each £100 borrowed over a month, but late payment fees can makes costs soar. Borrowers risk being charged hundreds of pounds in additional fees, which can far exceed the original loan amount.
Which? adds half of people who used a form of high-cost credit such as a payday loan or unauthorised overdraft said that they had been rejected for credit within the past year.
It has called on the Government to make sure that the new financial watchdog, the Financial Conduct Authority (FCA), which will regulate credit from next year, takes "early and tough action". It wants the FCA to:
Ban lenders from imposing excessive default fees and charges.
Toughen rules to make sure proper affordability checks are carried out.
Stop firms increasing credit limits when borrowers haven't asked for it.
Limit the number of times high-cost loans can be rolled over.
Force firms to make fees and charges more transparent.
The Money Advice Trust recently said complaints about payday loans nearly doubled in 2012, reaching 20,000 across the year (see the Payday loan crisis calls up 94% MSE News story).
Which? executive director Richard Lloyd says: "For an increasing number of people, using credit to pay for essentials has become the norm. This has led to people being forced into a vicious cycle, taking out further, expensive credit to pay off existing debts.
"Irresponsible lending goes on across the whole of the credit market and lenders must clean up their act."