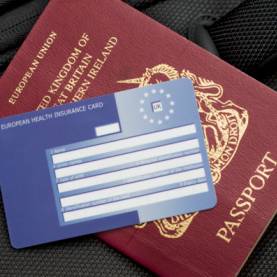 Almost half of parents admit that none of their children have a European Health Insurance Card (EHIC), while many aren't even sure what it covers, new research has found.
But if you're heading to Europe this summer, get one now. It's vital, and could invalidate your travel insurance if you don't have one.
With almost half (48%) of parents expecting to jet off this summer with their kids, research from Asda Money reveals that 43% of parents say that none of their children have an EHIC, while 24% don't even realise that each child needs their own card (see our free EHIC card guide for more).
Meanwhile a quarter (22%) of parents don't have an EHIC, and a third (34%) wrongly believe an EHIC covers all insurance needs when in Europe.
But if you're planning a trip to Europe this summer, check your EHIC is still in date as over three million are due to expire this year. Or if you don't already have one, apply now. You can do this for free via the NHS website – beware unofficial copycat sites that'll charge you.
The EHIC entitles you to free or discounted medical treatment at state-run hospitals and GPs in any European Union country, plus Iceland, Liechtenstein, Norway, and Switzerland.
You get treated the same way as a citizen of that country, so if it's free for them, it's free for you.
Every family member needs their own card and once you've got one, remember to keep it with you at all times while you're away, otherwise you won't be covered.
However, while the EHIC is a useful tool, it's only about medical cover, it's not a replacement for travel insurance, which will generally cover you for other problems including cancellation, delay, repatriation, baggage loss and theft. If you're going away, get both. For the best travel insurance deals see our Cheap Travel Insurance guide.