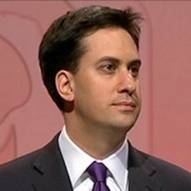 Gas and electricity prices will be frozen for 20 months after the 2015 general election if Labour wins power, leader Ed Miliband has told his party's annual conference in Brighton.
The plan – which Labour said would save the typical household £120 between May 2015 and January 2017 – was part of a speech in which Miliband denounced the coalition Government for failing to stand up to vested interests. (Join our Cheap Energy Club to start cutting your bills now.)
"If we win the next election in 2015, the next Labour government will freeze gas and electricity prices until the start of 2017. Your bills will be frozen, benefiting millions of families and millions of businesses," he said.
"That's what I mean by a government that fights for you, that's what I mean when I say: Britain can do better than this."
He added: "The companies won't like it because it will cost them money. But they have been overcharging people for too long because of a market that doesn't work. It's time to reset the market."
Labour said that families' energy bills have risen by almost £300 each year since the coalition took office in 2010. It added the 20-month energy price freeze could cost the big six power giants £4.5 billion.
Energy firms unhappy
But the energy companies' trade body warns the proposal could risk jobs and hit plans to build new power stations.
Energy UK chief executive Angela Knight says: "Freezing the bill may be superficially attractive, but it will also freeze the money to build and renew power stations, freeze the jobs and livelihoods of the 600,000-plus people dependent on the energy industry and make the prospect of energy shortages a reality, pushing up the prices for everyone."
Energy Secretary Ed Davey warns that it could result in the lights going out.
"When they tried to fix prices in California it resulted in an electricity crisis and widespread blackouts. We can't risk the lights going out here too," the Liberal Democrat says.
"Fixing prices in this way risks blackouts, jeopardises jobs and puts investment in clean, green technology in doubt."
Labour has already announced it will legislate to introduce more competition into the energy market, and will replace regulator Ofgem with a new watchdog with sharper teeth.
But Miliband told the conference these reforms will not kick in until the start of 2017.