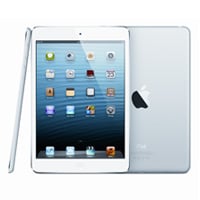 If you're planning on getting your hands on Apple's eagerly anticipated new iPad Air, which launched today, make sure you cut the cost by taking advantage of the top deals, including Tesco's £30 off offer.
While iPads aren't MoneySaving by anyone's definition, if you must have one, there are ways to save on the latest gadget (see our Cheap iPads guide for tips on cutting costs).
The cheapest version of the new iPad Air will set you back £399 for the 16GB wi-fi-only model.
But until 27 November, if you buy it via Tesco Direct, you can get £30 off purchases of £300 or over using an online code, which takes the price down to £369.
The 32GB wi-fi-only model will set you back £479, the 64GB wi-fi-only model costs £559 and the 128GB wi-fi-only model costs £639, all of which the £30 off code can also be used on.
If you've got a Clubcard you'll also earn earn points, which can be quadrupled for up to four times the value to spend on certain rewards, including days out and restaurant vouchers. See our Tesco Direct Deals page for the full details on what the code is and how to use it.
However, John Lewis currently matches its' competitors' prices. As it offers a two-year guarantee on iPads compared to Tesco's one year of cover, you'll need to weigh up whether you'll be better off buying from John Lewis instead.
But John Lewis hasn't confirmed it will definitely price-match on iPads, so check before you buy.
If you're after an iPad with 3G or 4G, see the Apple website for a roundup of data plans from the major networks.
Consider an older model
If you're after an iPad but can't stretch to the latest version, consider getting the older iPad 2. This hasn't fallen in price following the launch of the new model today, but it does come in slightly cheaper than the iPad Air at £329.
Plus, you can use Tesco Direct's code to knock £30 off, taking the price to £299. Again it's worth asking John Lewis if it'll price-match this as you'll get the extra year's guarantee if something goes wrong.
Apple released two full-size tablets between the iPad 2 and the iPad Air, both of which have been discontinued, so the specifications for the iPad Air are considerably better than that of the iPad 2.
Before getting the older model, compare the two products to make sure you're getting the most for your money. These are the key specifications of both products:
iPad Air vs iPad 2
| Specification | iPad Air | iPad 2 |
| --- | --- | --- |
| Price | £399 | £329 |
| Storage | 16GB, 32GB, 64GB and 128GB | 16GB |
| 4G ready | Yes | No |
| Weight | 1 pound | 1.33 pounds |
| Display | 9.7-inch Retina LED-backlit Multi-Touch display | 9.7-inch LED-backlit Multi-Touch display |
| Resolution | 2048x1536 resolution at 264 pixels per inch | 1024x768 resolution at 132 pixels per inch |
Are iPads worth it?
MoneySavingExpert.com deals analyst Deborah Heston says: "It's no secret Apple products come with a premium price tag. While its products are stonkingly popular, there are plenty of cheaper alternatives out there that might be more suited to your needs.
"The Kindle Fire HD, for example, allows you to browse the internet, read books and watch films, for a far more palatable £119.
"Also, as Tesco's £30 off £300 code is valid on all tablets, make sure you do your research first to check if the pricey iPad Air is right for you."