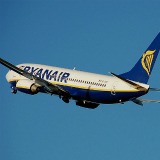 Ryanair's free-for-all seating policy is to be scrapped from next February when the no-frills airline starts to allocate seating on all flights – though you'll have to pay £5 to pick a seat.
Passengers can currently pay up to £15/flight to reserve seats close to exits for speedier boarding and disembarking, or by emergency exits for extra legroom – these also include priority boarding. All other seats are a free-for-all on the day (see our Budget flight fee-fighting guide to avoid unnecessary costs).
However from next February, all non-reserved seats will be allocated before the flight.
If you want to choose your seat, you'll have to pay £5. If you don't want to pay, Ryanair will allocate you a seat during the 24 hours before departure, although this doesn't mean you'll get to sit with everyone on your booking. Ryanair says it will depend on what seats are left.
Customers will continue to be able to check-in from 15 days prior to the flight, up until the online check-in deadline of 4 hours before the flight departure time.
Rival Easyjet introduced allocated seating earlier this year, with passengers paying up to £12 each way to choose a seat with more legroom (see the Easyjet launches allocated seating MSE News story).
The news comes as Ryanair announced it expects a 9% drop in average fares between now and the end of December, and a further fall of 10% in the first three months of 2014.
Last month it announced a number of new measures to improve customer service, including giving passengers the option to carry a second, smaller bag, or a duty-free shopping bag, as well as a standard hand luggage case on a flight (see the Ryanair loosens hand luggage rules MSE News story for full info).