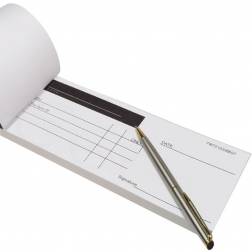 People will be able to pay in a cheque by sending a smartphone image of it to their bank under Government proposals to bolster the long-term future of the payment method.
The Government describes cheques as a "crucial" part of the British payments landscape, and says plans to bring them into the modern age could cut the length of time it takes to process a cheque payment from six days currently to just two days. (If you're looking for a new bank, see our Best Bank Account guide.)
Plans to kill off cheques from 2018 were dropped two years ago after the UK Payments Council faced an outcry from small businesses, charities and pensioner lobby groups, who said the needs of millions of vulnerable people were being ignored.
Next year, the Government will consult on introducing legislation to speed up cheque payments. It will consider the possibility of making the process faster by enabling banks to use images rather than paper as they do now. This technology is already widely used in the United States.
"Cheque imaging" does not require a hard copy of the cheque to be present at every stage of the paying-in process. That means that time which would have been spent transferring it between different banks and central clearing depots is cut, as well as the overall cost of dealing with it.
Under the proposals, people without smartphones will be able to use similar technology at cashpoints or branches. Or they can continue paying in paper cheques as they do now.
Pilot scheme planned
Barclays plans to pilot technology to enable its customers to scan cheques using smartphones or tablets early in the New Year, with a full launch pencilled in for later in 2014.
Despite the increasing popularity of new technologies such as online banking and mobile payments, nearly £840 billion worth of cheques was processed last year – accounting for 10% of all payments made by individuals.
Financial Secretary to the Treasury Sajid Javid says: "This Government is determined to create a banking sector that works for consumers and serves businesses.
"We want to see more innovation so that customers see the benefits of new technologies. That is why we're creating a new payments regulator and why we are going to consult on speeding up the cheque clearing process.
"We want to take the very best of the current system and make it better. We want cheques to have a crucial role in the ongoing success of the UK."
Citizens Advice chief executive Gillian Guy says cheques can be a "vital" method of payment.
She adds: "It's good to see plans to bring cheques into the modern age."