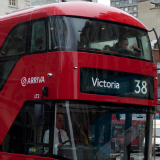 London's bus and Tube fares will rise by 3.1% on average next month, but some travellers will be hit by hikes of up to 4.3%, Transport for London has announced.
The average rise will be pegged back to July's retail prices index (RPI) rate of inflation, but a six-zone annual Travelcard – which allows travel on almost all the capital's public transport network – will be rising 4.3% to £2,320. (Our Cheap Train Tickets guide has tips to save money across the country.)
This rise also applies to a seven-day Travelcard ticket for six zones, which goes up from £55.60 to £58.00 from 2 January.
Seven-day Travelcard and annual tickets on journeys covering zones 1-2 and 1-3 will rise 3.9% in the new year, while the rise for zones 1-4 is 4.1% and the rise for zones 1-5 is 4.2%.
On the buses, the pay-as-you-go fare on Oyster and contactless payment card increases 5p to £1.45.
Most Oyster pay-as-you-go fares for the Tube, DLR and London Overground will be frozen at 2013 prices next year, but some fares in zones 1 and 2 will increase by 10p.
Passengers who use paper one-day Travelcards should consider switching to Oyster, as off-peak tickets will now only be available in six-zone versions. So someone who buys a two-zone paper Travelcard for £7.30 now will have to pay £8.90 for the six-zone version next year – but they can cut this cost to £7 by using Oyster.
Buy early – beat the hikes
If you regularly travel on London's public transport, here are ways to cut your costs.
Switch to Oyster. If you're one of the minority who pay for travel in London with paper tickets, fare costs are even more punishing – as shown in the Travelcard example above.
Buy tickets before 2 January. The fare rises take effect on the first working day of the new year. But if you buy a weekly, monthly or annual ticket before that, you'll effectively be getting 2014 travel at 2013's prices.
Are you on the best value ticket? Add up what you spend on travel each day, including weekends and nights out. If you make lots of different journeys each week, you could save with a Travelcard season ticket. If you have one of these already, as these are rising by up to 4.3%, tot up your weekly journeys and check it's still giving you good value.
Trade up to an annual ticket. Annual Travelcards are 40 times the cost of weekly ones so if you use them throughout the year you save. It also comes with a discount Gold Card, so make sure that's loaded on your Oyster card for cheaper travel on the Tube and trains outside your zones and across south-east England. Also see if your employer will offer an interest-free loan towards the cost.
Over 60? An Oyster photocard offers free travel for all Londoners over 60 on all Tube, bus, DLR and Overground services, and National Rail trains after 9.30am on weekdays. It costs £10, and is designed to help the age group who can no longer get Freedom Passes.
Do you have a railcard? If you have a railcard that you already use on National Rail — such as a 16-25, Family & Friends or a Disabled Persons Railcard — you can get this loaded onto your Oyster for cheaper off-peak travel in London.
Mainline fare hikes
The 3.1% overall increase is equal to the July 2013 RPI inflation rate, which determines mainline rail fares.
London Mayor Boris Johnson has, on average, frozen the London fares in real terms. But the hike in Travelcard costs is because they cover both National Rail and TfL services. Mainline fares are due to go up by an average of RPI plus 1%, making it a 4.1% overall average rise.
Johnson says: "I have always said I was determined to bear down on fares, while ensuring that we can still invest properly in a transport system that is critical to our city's success.
"I know that families and working Londoners who have helped drive the economic recovery still face real pressure over the cost of living and so I've decided to keep fares in line with RPI and therefore freeze them in real terms for next year."
Manuel Cortes, general secretary of the TSSA rail union, says: "We welcome the news that fares will not be rising again above inflation in January but we want to see an end to annual inflation rises altogether. We have the highest fares in Europe and it is high time they were frozen."
Additional reporting by the Press Association