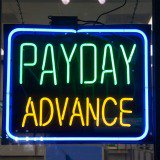 The Government has rebuffed MoneySavingExpert.com's calls to ban payday loan adverts from children's TV.
MoneySavingExpert.com creator Martin Lewis warned MPs last November that lax rules on payday loan advertising risk inuring a new generation to the dangers of these loans of last resort (see the Payday loan ads MSE News story).
The cross-party Business, Innovation and Skills Select Committee backed our campaign, saying children's programmes were "not an acceptable place" for payday loan adverts (see the MPs back MSE's call MSE News story).
Labour leader Ed Miliband also backed our call and went even further to suggest a rule to stop adverts targeting people watching TV late at night while drunk, who can press a button and get near-instantaneous expensive credit.
Children aged 4-15 saw 596 million payday loan adverts in 2012, according to broadcast regulator Ofcom – up from three million in 2008. This meant the average child saw 70 payday loan adverts.
But it looks unlikely action will be taken by the Government, after both itself and regulator the Financial Conduct Authority (FCA) responded to the committee's recommendations (see our Payday Loans guide for alternatives if you're struggling).
MoneySavingExpert.com creator, Martin Lewis, says: "The Government is wrong to suggest this isn't a problem. Our poll shows more than one in three people with children under 10 have heard their kids repeat payday loan slogans from TV ads, and 14% of those polled said when they've refused to buy something for their under-10, they've been nagged to take out a payday loan for it.
"I'm slightly bewildered that Vince Cable and his team don't understand that marketing is at the core of these loans, which can cause many people pain and misery. The Government has created an industry that didn't exist before and is now inuring schoolchildren to this type of borrowing.
"Unless the Government stops these adverts from being in the background of kids' daily lives, it will be guilty of allowing the normalisation of payday loans for the next generation."
What does the Government and the FCA say?
While the Government said Ofcom's figures were "concerning", it said they comprised a relatively small number of TV ads seen by children aged 4-15, at 0.6%.
The Government also said payday loan adverts are already subject to the Advertising Standards Authority's (ASA) "strict content rules", and that the ASA "will not hesitate to ban irresponsible adverts, and has a strong track record of doing so, including recent Wonga and Peachy adverts".
It added that when the FCA takes over regulation of the consumer credit industry from 1 April, it will also have the power to ban misleading adverts which breach its rules.
The FCA said "it is not best placed to ban advertising on children's or daytime television", but said it will be focused on "using the powers and resources available to us to ensure that adverts are clear, fair and not misleading".
Payday loan problems
As well as calling for a ban on payday loan adverts being shown around TV programming aimed at children, the committee also said last December that further action was needed to crack down on the industry.
The FCA has already confirmed its new rules. From 1 April firms must:
Limit the number of loan rollovers to two. Payday lenders use rollovers to extend customers' loans.

A loan may be advertised as lasting for a month at a small cost, but it's often rolled over repeatedly, so it lasts much longer. Some lenders actively encourage customers to roll over their loans.

This means the hideous headline APRs, which many say are meaningless for monthly loans, start to become more relevant as the loan becomes longer, increasing the cost. Only allowing two rollovers should ease this problem.


Restrict the number of times a firm can take money from a borrower's bank account to two. A lender can only take more than two payments if the customer allows it to. Lenders must also only try to take full repayments.

At present, some lenders take lots of small sums out of people's accounts, possibly even every day, sucking out customers' income and causing hardship. The new rules should put customers back in charge of their payments.


Add a 'wealth warning' to payday loan adverts. Payday loan firms will have to use this slogan on their ads: "Warning: Late repayment can cause you serious money problems. For help, go to moneyadviceservice.org.uk." The FCA will also be able to ban misleading ads.


Make sure borrowers can afford loans. Currently, many payday lenders give money almost willy-nilly, without checking with credit agencies. Now they'll have to make sure borrowers can pay them back.



Tell customers where they can get free debt advice. Lenders will have to give customers an FCA information sheet telling them about free debt advice when loans are rolled over or refinanced. But they won't have to give them this information when customers first apply for a loan.
In July, the FCA will start consulting on capping how much the loans will cost. It plans to bring in a cap from January 2015 (see the Government to cap costs of payday loans MSE News story).