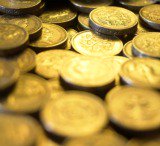 Savers will soon be able to stash away more cash in premium bonds after the Chancellor announced the current limit will rise - but it is likely the chances of winning will fall, to pay for more £1 million victors.
Here are the key changes:
At present, the maximum Premium Bond limit is £30,000 (this is a total limit, not an annual cap). This will jump to £40,000 in June and again to £50,000 in either 2015 or 2016, with a date yet to be announced.
The number of £1 million winners will be doubled from one to two per month - starting from the August 2014 draw.
Why does it mean I've less chance of winning?
MSE's Premium Bond Calculator shows anyone holding £1 in Premium Bonds has a 1 in 47 billion chance of scooping the jackpot in each monthly draw. But what the odds will be when the extra £1 million prize is added is yet unknown.
There is currently a 1.3% interest rate on Premium Bonds, meaning that anyone holding £1,000 would expect to win £13 over a year on average.
But since premium bonds work by paying out prizes, you can't win £13 - the lowest prize is £25. So for people to win the larger prizes, many people have to win nothing.
A spokesman for NS&I confirmed the changes, and said that there were no plans to change Premium Bond interest rates, or the amount in the prize fund, which is currently about £50 million per month.
If this remains the case in the August draw, it will mean that more premium bond holders will win nothing, as cash is diverted to pay the new prize.
MoneySavingExpert.com creator, Martin Lewis, says: "Nice bit of sleight of hand from the Chancellor on Premium Bonds.
"While the increase in the amount you can invest benefits some, more million-pound prizes will hurt millions. This increase in the number of top prizes is being made without increasing the prize fund, which is currently 1.3% of the amount held in bonds.

"Quite simply, for every new million-pound prize winner, thousands of people won't win the £25 or £50 they rely on for returns. More million-pound prizes is a negative skew that decreases the returns for someone with typical luck, and in today's low-rate environment, people need every penny they can get."