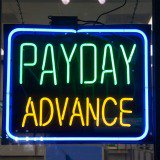 Payday loan brokers are posing as credit unions in an attempt to lure new customers, a real credit union is warning.
To distance themselves from the bad reputation they've built up over the years, brokers for payday lenders are now placing ads which appear on search engines when users search for "credit unions", which are non-profit co-operatives. (Find out more in our Credit Unions guide.)
How are they doing this?
If you search on Google for "credit unions", the results will show paid ads for "credit union loans".
Research by an actual credit union – Somerset Savings and Loans – has revealed that none are owned or operated by credit unions.
A simple search by MoneySavingExpert.com has verified this is correct. After you click on the advert describing the company as a "credit union", you're taken to a page where the small print actually explains that the broker will be able to offer you a payday loan:
"Rates from 9.9% APR – 3,350% APR variable are available for unsecured loans. The highest rates of interest apply to payday loans; where only a small amount of money will be lent and just for a short period of time (up to four weeks)."
Credit unions aren't allowed to offer loans at higher rates than 42.6% APR.
MoneySavingExpert.com senior writer Helen Saxon says: "It's disgraceful that payday loan broker firms are using paid ads to masquerade as credit unions.
"It's designed to catch people out, and could mean that people end up paying APRs 100 times higher than a credit union loan."
Paul Urch, of Somerset Savings and Loans, says: "Trading on the reputation of ethical lenders to promote what in all honesty is a new avenue for discredited payday loan companies is another example of their willingness to employ any sharp practice in order to harness more people to the payday loan treadmill."
What are payday lenders?
Payday loans are short-term lending often used by people to tide them over (to fill the gap until payday) when they have no other option.
The loans are typically only supposed to last for days, or a maximum of a month, for amounts of up to £1,000.
But some loans have APRs in the thousands, meaning the amount you pay back can skyrocket. Read the Payday Loans guide for more info.
What are payday loan brokers?
Payday loan brokers will take your details and then scour the payday loan market to find the 'best' payday loan for you.
What are credit unions?
Traditionally, credit unions were small, non-profit financial organisations set up by members with something in common to benefit their community.
Now there are about 500 credit unions in the UK. Primarily, they offer savings and loans to their members, though many now offer current accounts, and a few even offer mortgages.
Almost a million people are members and this number is increasing.
Alternatives to payday loans
There are alternatives you can consider before taking the plunge with a payday loan:
• Check if you're eligible for interest-free loans and grants from your local council or job centre. (See our Debt Help guide for more information.)
• Get a 0% credit card – even with a poor credit score. (See our 0% Balance Transfer and Spend guide.)
• Check out your local credit union – independently-run local co-operative organisations which aim to assist people who may not have access to financial products and services elsewhere. (See our Credit Unions guide.)
• Ask if you can you borrow from family or a close friend.
• Extend your overdraft, if you can. But stay within the arranged limit, otherwise it'll cost you big.