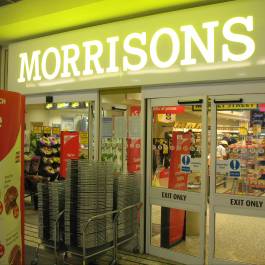 Morrisons customers can now use the supermarket's price-checker tool to compare past prices for some online products – but it can be beaten by MySupermarket's existing tool.
Morrisons is the first of the big four supermarkets to launch a tool that allows users to see which products the firm has cut prices on (see our Supermarket Shopping Tips to make sure you're getting the most value from your weekly shop).
How does Morrisons' new tool work?
You can find the tool on Morrisons' website. You can select the category of goods you want to compare, and you'll be presented with a scrollable page showing all items available for comparison.
Clicking on a product brings up a graph showing how its price on the Morrisons website has changed over the last three months, on a week-by-week basis.
But frustratingly, you can't search for specific products, nor can you view a product's history while browsing in the online store. You can only check prices using the standalone tool – although Morrisons says it plans to add more functions to the tool in future.
What products does Morrisons' price-checker include?
Only products that have been cut in price in recent months as part of Morrisons' I'm Cheaper campaign are included in the tool. Most of these are Morrisons' own-brand goods.
The prices shown are also only what you'd pay if you buy online – in-store prices may be different.
Morrisons says the products have been chosen for their popularity and importance in a weekly household shop.
Does the tool take account of promotions?
Yes. When viewing a product's history, it indicates the prices from any multi-buy deals it may have been included in.
How does the tool differ from MySupermarket?
Supermarket comparison website MySupermarket, which supplies the data for Morrisons, already offers a similar service allowing users to view online prices at any given time across all the major supermarkets.
So while the Morrisons tool only focuses on its own products, mySupermarket includes the vast majority of both third party and own-brand items sold at Aldi, Asda, Morrisons, Ocado, Sainsbury's, Tesco and Waitrose.
It also lists past average prices in a graph, which takes into account of any multi-buy offers.
Morrisons digital marketing director Amanda Metcalfe, says: "We want customers to have complete faith in our value-for-money and we're hoping that this 'warts and all' approach to our pricing will help."
So is Morrisons' price-checker any good?
Pros:
It's the first of the big four supermarkets to launch a price checker on its own website showing customers which products are discounted and how much they've previously cost.
The tool includes previous standalone prices, as well as past multi-buy prices.
Cons:
The biggest negative is that it's limited to selected goods from the Morrisons website. Its functionality needs improving, as you can't view price data while doing an online shop unless the tool is open in another window.
The tool only includes online prices, and at present Morrisons online delivery service is only available if you live in certain parts of the Midlands (see the MSE News story Morrisons home deliveries begin in Midlands) as well as north-west London. Deliveries are due to expand to Greater Manchester and Hull this week.
MySupermarket is a more comprehensive way of comparing prices as it includes more products. It also compares prices across all of the big supermarkets rather than just the one.