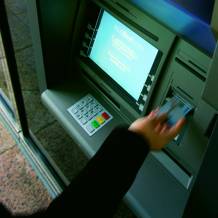 If you've got a basic bank account with Lloyds, NatWest, RBS or TSB, you'll soon be able to withdraw cash from any ATM, after the providers announced they'll lift a ban on customers using rivals' machines.
In 2011, NatWest and RBS banned basic bank account holders from using other banks' ATMs, claiming they couldn't afford the fees charged by their rivals. Lloyds Bank and TSB imposed a similar ban in 2003.
The ban left millions of customers, who already have trouble accessing financial services, unable to use the vast majority of cash machines in the UK (see our Basic Bank Accounts guide for top accounts for poor credit scores).
Now all four banks have performed a U-turn. Lloyds and TSB customers will be able to use Link ATMs from early July, while NatWest and RBS customers will have the ban lifted by the end of the year.
NatWest and RBS customers will be able to access all Link ATMs by the end of the year, while Lloyds Bank and TSB basic bank customers will be able to use Link cash points from early July.
'We want to win back trust'
A spokesperson for RBS and NatWest said: "We are determined to earn back the trust of our customers and the public.

"We know that we have to make banking easier for all of our customers, particularly those with stretched finances who work hard to make ends meet.

"Lifting the ATM restriction for Basic Bank Account customers is a step towards earning back that trust, and will make a huge difference to those who have struggled to access their money."
Rivals Barclays, Halifax, HSBC, Nationwide and Santander continued to give basic bank account holders access to other banks' machines.
Good news for basic bank account holders
Helen Saxon, MoneySavingExpert.com's senior money writer, says: "Banning basic bank account holders from withdrawing their money from rival banks was a regressive move, which punished the least well-off in society.
"We're glad to see Lloyds, NatWest, RBS and TSB are lifting this decision to allow basic bank account holders to access their cash at many more locations.

"These customers have often been treated as second-class citizens, so now their rights are more aligned with standard current account holders."