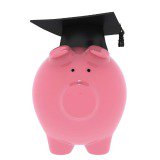 If you're one of the 58,000 former students who received the wrong correspondence about their loans, look out for packs containing the right paperwork coming in the post.
You should be getting the correct documents from Erudio, the firm that's taken on the loans. Despite appearances, these aren't demands for payment.
It follows a long-running error from the Student Loans Company, the Government firm that administered the loans until March 2014, that meant borrowers with pre-1998 loans who were in arrears were given the wrong information about their loans.
This week, we've received tweets from confused Erudio customers, who have told us they've recieved what look like old arrears notices. One letter we've seen is dated as being sent in 2010.
But Erudio says these aren't backdated demands for cash. Instead, it says it has begun posting packs this week to customers affected by SLC's error.
If you get one, it should include the "notices of sums in arrears" letters and annual statements containing the correct wording and information you should have received at the time.
Erudio says there should be a letter on the front of each pack explaining what's in it and why it has sent the letter.
Why are these packs being sent out?
In April, MoneySavingExpert.com revealed that between 2008 and March 2014, the Student Loans Company made a long-running error in correspondence sent to borrowers with pre-1998 loans who were in arrears (see the Refunds for 1990s students after loan blunder MSE News story).
The loans have now been sold to Erudio, which took them over on 1 March.
At the time, the SLC said nobody overpaid their loans, or paid any additional charges or interest because of this mistake.
But as it "potentially" broke the law by failing to disclose arrears correctly, all interest payments and charges borrowers paid from the moment they received their arrears letter until 1 March would be be refunded.
Erudio says it has now refunded all its affected customers, while the SLC says it has written to those eligible for a refund who paid their loans before March, asking them to call it for a refund.
I've been sent a pack. What do I do next?
You don't need to do anything upon receiving these packs – they're purely the letters you should have received at the time. If you're still in arrears with Erudio, you should contact it to arrange making repayments.
Erudio has FAQs on its website to explain the situation, under the heading "CCA remediation".
Additional reporting by Marcel Le Gouais.