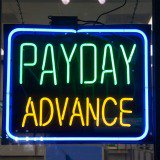 Over 6,000 borrowers who were lent more than they could afford are to be refunded a combined total of more than £700,000 by payday lender The Money Shop.
The Financial Conduct Authority (FCA) found The Money Shop's owner Dollar, the UK's second largest payday lender, failed to ensure proper checks took place to prevent borrowers from getting loans that were more than they could afford to pay back.
The company has blamed a systems error for the mistakes, which took place between January 2013 and April this year. It says customers were only lent an average of an extra £12 each (see our Payday Loans guide for alternatives if you're struggling).
MoneySavingExpert.com campaigns manager Wendy Alcock says: "Another day, another problem for a payday lender. Unbelievably this time it's about a lender lending more than even it wanted to. Dollar's own systems were so flawed it couldn't stop thousands of people being lent money they couldn't afford to pay back.
"This increased attention from the regulator is welcome. Hitting firms' wallets is the only way to get them to sit up and take notice that they need to shape up or ship out. It's great to see money going back to where it belongs – into people's pockets – and I'm sure this isn't the last time it happens."
Today's news comes as rival Wonga announced it will tighten its lending criteria to ensure loans are only given to customers who can "reasonably" afford to repay them, and ensure its adverts don't inadvertently "attract the very young or vulnerable".
The controversial payday loans industry is currently undergoing a competition investigation, the full results of which will be published later this year.
The FCA is also expected to announce a cap on the cost of payday loans later this week.
How do I know if I'm affected?
The FCA says 6,247 customers of The Money Shop received loans that were larger than they could afford. If you're affected, you don't need to do anything as the payday lender will be in touch shortly.
The Money Shop says it has written to affected customers to let them know it'll be giving them a refund.
How much will I be refunded?
The Money Shop will refund more than £700,000 in interest and default charges, which customers may have incurred through late payment of their loans.
£79,000 is expected to be given as cash refunds, while those who have an outstanding balance will have their loan amount reduced.
What does The Money Shop say?
Dollar has agreed to appoint an independent person to review its future lending decisions and consider whether customers are being treated fairly and being lent sums that they can afford to repay.
This person will also ask customers about their borrowing experiences and report back to the FCA.
The Money Shop managing director Sanjiv Corepal says: "The Money Shop is a business which prides itself on the trust enjoyed between customer and company. Mistakes do happen and, when they do, we can be trusted to put them right, as we have in this instance."
Additional reporting by the Press Association.