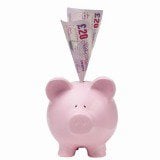 HSBC e-ISA customers should diarise to transfer their cash as the bank has confirmed interest rates will tumble from October.
Customers with an HSBC e-ISA, which is no longer available to new savers, will earn 1% AER from 1 October when rates will fall from the current 1.6% AER. (See our Top Cash NISAs guide for our best buys.)
The e-ISA, which was only available for existing HSBC current account customers, first launched in April 2008 and was closed to new applicants in February 2014.
HSBC won't tell us how many customers are affected by the move, but it's telling people they can transfer their money to its Loyalty Cash ISA, which pays between 1.4% and 1.6% AER depending on the type of current account they hold with the bank.
Premier current account holders, which is a packaged account for high earners, will receive 1.6% AER, Advance current account customers will get 1.5% AER, and all other account holders get 1.4% AER.
However for some, the bank's rates can be beaten.
HSBC's ISA rates can be beaten
HSBC's current account customers who have its Premier account will be able to reap the benefit of its linked 1.6% Cash ISA account. But for those who can't take advantage of this, HSBC's other ISA rates can be beaten.
If you're after easy-access cash so you can take your money out when you want, BM Savings currently pays a market leading 1.55 AER, including a 1.05% bonus for a year, with a minimum £1 deposit. It allows transfers in, though you can only access the account via post.
For those willing to fix their cash, the top account that allows transfers in from old ISAs is Skipton's five year fix at 2.75% AER with a minimum £500 deposit. See our Top Cash NISAs guide for all of our best buys.
ISAs were officially renamed NISAs (New ISAs) in July. They allow everyone to put £15,000 into cash or shares savings without paying tax on it. Despite the change, some providers, including HSBC, still refer to their accounts as ISAs.
Why is HSBC doing this?
A HSBC spokesperson says: "As a result of increasing market pressure downwards on borrowing and savings rates over recent months, we are reducing our e-ISA rates on 1st October for existing customers.

"We removed this account from sale in February 2014. Affected customers are able to transfer to our Loyalty cash ISA, which pays 1.4%-1.6% AER variable, depending on the type of current account held. Customers can come into a branch or call us to discuss their savings options."