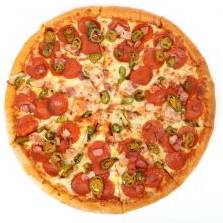 Students are often believed to be living on pizza and thanks to a loophole discovered by our 'Deals Hunter', everyone is doing it and for free, at least until 5 October.
MoneySavingExpert.com has been inundated with success stories after a Dr Oetker pizza glitch that gave buyers of a £1.50 frozen pizza unlimited free pizza was found by MSE's Charlotte Burns – aka Deals Hunter – and featured in our weekly email.
Carolyn Barr from Glasgow is one of the many MoneySavers who've been in touch. Her son has just gone to university and she took advantage of the deal to get him set up.
She says: "Thanks to the link in your email last week, I have bagged 12 free pizzas so far and still have some codes left to print. We bought my son a mini freezer last weekend to keep in his student accommodation, which we filled with the pizzas before driving to deposit the appliance with its contents inside!"
Nigel from Milton Keynes, meanwhile, has amassed a whopping 25 pizzas so far. He says: "We've got a big birthday party coming up soon, which we are putting on a buffet for – there will be plenty of pizza for everyone! I am also opening up a conversation with a local food bank to work this promotion for the greater good of people who really need some help."
What was the offer?
Our Deals Hunter spends hours trawling the internet and shop floors for sneaky loopholes and bargains for her blog, and via Facebook, she saw Dr Oetker frozen pizza had promotional packs that included a special code that offered £1.50 off future purchases.
After checking price comparison website MySupermarket, Deals Hunter found Morrisons was selling these pizzas for half price at £1.49 until 5 October, meaning you're essentially getting 'buy one, get one free'.
Yet as the pack you get for free also contains a code which gives you another free pizza, it means you can get unlimited pizza for free – that's a lot of dough for your dough.
To find out how to get a 'pizza-the action' (we're not done with the pizza puns yet!), head to our Deals Hunter Blog. People who've bagged the deal also suggest the pizzas are on sale for £1.49 at Asda and that the deal's working there too.
But be quick as this deal is due to end on 5 October – assuming it isn't pulled sooner by either Dr Oetker or the supermarkets.
Charlotte (Deals Hunter) says: "I love a good coupon and know the power of 'coupon stacking', which is where you combine a coupon with a discount. So when I spotted the Dr Oetker promotion on Facebook I went straight to MySupermarket to see if any of the pizzas were on offer.
"As soon as I realised people would be able to get unlimited free pizza, I knew this was going to go down well as our users love a freebie. But the reaction has been phenomenal; from mums packing out their son's freezers to others making plans to give to food banks."
'Over 40 pizzas in my freezer'
This deal's gone down a real treat with our users. Here are some more of the successes we've been sent:
Vanessa says: "Love this offer. I have over 40 [pizzas] in my freezer (I have children at university)."
David says: "Since discovering free pizza, I've become obsessive. I'm in and out of the supermarket every day with my vouchers. In one pack today I got my money off vouchers and another £5 off voucher!"
Frazer says: "I've sent this info on to my kids and friends; I'm on to freebie number five."
Kirsty says: "I am lucky to have Morrisons and Asda as my two local supermarkets – they are both selling the Dr Oetker pizzas for £1.49. I have been flitting between the two on my days off and so far I have accumulated 14 pizzas and all I've paid is £1.49. What a great saving."