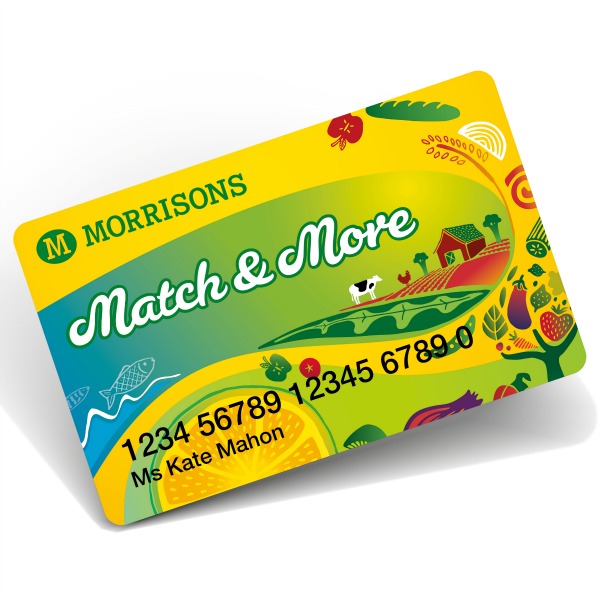 Morrisons customers will soon automatically get the price difference back if their grocery shop would have been cheaper at Asda, Sainsbury's or Tesco AND Aldi and Lidl, but only if they register for a loyalty card.
Tomorrow Morrisons is launching its new 'Match & More' scheme, which differs from the offers run by the other major supermarkets by also price matching against discount supermarkets Lidl and Aldi (see our Downshift Challenge tool to cut the cost of supermarket shopping).
The price match applies to comparable own label goods as well as those on promotion at other supermarkets. The scheme is available in 11 main stores from tomorrow and will be extended to all other main stores by Christmas.
Morrisons' Match & More scheme will work in two parts:
The Match – Will automatically check all the products in your basket against a database of thousands of prices collected by independent firm Profitero. Where there are comparable products, these are price matched against those from Aldi, Asda, Lidl, Sainsbury's and Tesco.

If your comparable shop would have been cheaper elsewhere, Morrisons will give you the difference in points. 1p is worth 10 points, and once you've accumulated 5,000 points you'll be given a £5 voucher. So if, for example, Lidl is the cheapest and is 60p cheaper than Morrisons, then you'll earn 600 points.
And More – Shoppers will receive additional points on "hundreds of featured products". They will also earn 10 points on every litre of fuel bought from Morrisons petrol stations.
The 'Match' part of the scheme won't work in Morrisons local stores, but the 'More' part will, so customers will be able to earn additional points on certain products in local stores.
To earn points customers need to register for a free Match & More card in-store or online. Points earned are then added in-store when your card is swiped at the till, or earned when you shop online where you'll get the voucher next time you shop in-store, or via email if you opt to do so.
If you don't have your Match & More Card with you, you have 30 days to claim your points via any in-store Customer Service desk. You will need to keep your receipt to do so.
Morrisons says it also has plans to enable customers to turn their points into vouchers for "leisure activities" such as eating out and travel, although there's no set date for when this might happen.
But how does the new deal stack up to its competitors' promotions? The table below compares their other features to help you get your groceries at the lowest price.
Supermarket price promises compared
Asda
Ocado
Morrisons
Sainsbury's
Tesco
What's the deal? (i)
If Asda isn't cheapest by 10%, you'll get the difference between its price and 10% less than the cheapest competitor
Difference + 1p paid if Tesco.com cheaper
Difference to cheapest competitor paid if Morrisons is not cheapest
Difference to cheapest competitor paid if Sainsbury's not cheapest.
Difference to cheapest competitor paid if Tesco not cheapest.
Does it work online?
Yes
Yes
Yes
No
Yes
Does it work in all stores?
Yes
N/A - online only
11 main stores from 3 October, all main stores by Christmas. Locals excluded (ii)
In main stores (locals & centrals excluded)
In Metros, Superstores, Extras, attached petrol stations (not Express & Homeplus)
Supermarkets compared
Morrisons, Sainsbury's, Tesco, Waitrose
Tesco.com
Aldi, Asda, Lidl, Sainsbury's, Tesco
Asda
Asda, Morrisons, Sainsbury's
Includes branded good?
Yes
Yes
Yes
Yes
Yes
Includes own-label goods?
Yes
No
Yes
No
Yes
Includes goods on offer?
Yes, but only where they can be "fairly included"
No
Yes on comparable promotions
Certain comparable promotions included
Yes, but only where they can be "fairly included"
How many items do you need?
Min 8, 1 must be comparable
Min 1 comparable
Min 1 comparable
Min 10, 1 comparable
Min 10, 1 must be comparable
Minimum spend?
N/A
£40
£15
N/A
N/A
Money paid in
Asda vouchers
Ocado vouchers
Morrisons vouchers
Sainsbury's vouchers
Tesco vouchers
Maximum paid
£100/month, max 10 claims
£10 per shop
£10 per transaction, up to £100 per month
£10 per shop
£10 per shop up to £100 per month
Vouchers paid automatically?
No
Yes
Yes
Yes
Yes
How are vouchers paid?
You must claim (iii)
Email
At till/or can opt for it via email if shopping online
At till
At till/email if shopped online
When do vouchers expire?
28 days
14 days
56 weeks
14 days
28 days

Waitrose prices matches branded grocery goods, excluding those on promotion, with Tesco. But unlike the schemes above the prices are already matched on the shelf. (i) Deals based on total cost of all comparable goods. Comparable items are where weight and/or size is similar. (ii) Local stores are excluded from price comparison, but you can still earn points on featured items. (iii) Claim via Price Guarantee website from 3hrs after in-store shop, 48 hours after online delivery.
Additional reporting by Paloma Kubiak.