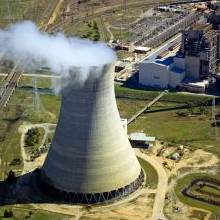 Two power generation firms are to pay penalties totalling £39 million, which includes redress to be paid out to consumers, following their failure to deliver energy saving measures to low-income households.
Under the Government's Community Energy Saving Programme (CESP), generators and energy suppliers had to deliver energy saving measures to households in low-income areas by the end of December 2012 in order to lower their carbon emissions (join our free Cheap Energy Club to check if you can switch and save).
But regulator Ofgem has today announced that it's secured payments from two generators – £28 million from North Yorkshire-based Drax Power and £11 million from InterGen – after they both failed to meet the targets.
Ofgem issued an open letter in September 2012 warning energy companies that they risked enforcement action if they failed to meet their CESP targets and it encouraged firms to continue to install energy efficiency measures after 31 December 2012.
Drax Power delivered just 37.1% of its carbon emissions reduction target by the end of December 2012, leading to several thousand households in some of the most deprived areas in Britain missing out on energy saving measures that would have helped lower bills.
Generators create electricity via power stations, but do not have a direct relationship with consumers – suppliers then buy this energy and supply it to customers.
Ofgem found that senior management at the firm were aware of the risk of non-compliance with CESP 18 months before the end of the scheme and that after the deadline passed, Drax made no attempt to mitigate the carbon savings shortfall.
InterGen delivered just 6.4% of its required energy saving measures by 31 December 2012, however it proactively undertook additional measures and delivered 61.2% of its obligated energy saving measures by the end of May 2013.
Investigations into four other energy companies that failed to deliver their obligations under the CESP scheme are still ongoing. These firms are British Gas, SSE, Scottish Power and GDF Suez/IPM Power. Ofgem says it can't comment on when these investigations will conclude.
How will the redress schemes work?
Drax is working with fuel poverty charity National Energy Action to develop a package of consumer redress proposals. Up to £20 million of the £28 million secured by Ofgem will be used for the redress scheme, while the remaining £8 million will either be paid as a fine to the Treasury or used for consumer redress measures.
Ofgem, meanwhile, is working with InterGen to decide how best to use the £11 million to directly benefit the consumers for whom the CESP was designed.
The regulator will be consulting on both company's proposals until 5 January 2015. A decision on the redress schemes will then be confirmed in early January.
'Serious failings'
Sarah Harrison, senior partner in charge of enforcement at Ofgem, says: "Drax missed its target by a clear margin, disadvantaging several thousand households in some of the most deprived areas in Britain. Not only are these consumers missing out on energy efficiency measures that would help keep their homes warm, they also face higher energy bills as a result.
"Today's agreement to pay £28 million reflects the seriousness of the consequences of these failings for consumers."
On InterGen, Harrison adds: "Ofgem takes compliance with obligations, both of governmental schemes and regulatory rules, seriously. InterGen missed its target by a clear margin, disadvantaging many low-income households. The £11 million payment reflects the seriousness of these failings and means InterGen has not gained through its non-compliance."
'Deeply disappointed'
Drax says it is deeply disappointed by the scale of the fine and says independent generators should not have been part of CESP because of their lack of experience in the delivery of energy efficiency schemes and absence of any direct relationship with domestic electricity customers.
The CESP programme has now been replaced by ECO, and under this scheme energy efficiency measures only have to be met by suppliers, not generators.
The company outsourced its CESP obligation to a third party provider, against which it says it has since settled an action for breach of contract.
Drax chief executive Dorothy Thompson says: "We are deeply disappointed with the magnitude of the fine. However, we believe it is in our shareholders' interests to settle this matter and, as the nation's single largest power provider, focus on delivering a reliable supply of electricity this winter."
InterGen's European general manager Mark Somerset says: "We regret that we could not fulfil our CESP obligation but we believe the scheme design was deeply flawed and not cost-effective for consumers.
The implementation of CESP has damaged investor confidence in the sector and undermined wholesale market competition as a result of its disproportionate effect on independent generators who – unlike the large energy suppliers – were unable to pass the costs of CESP installation measures through to domestic consumers in their electricity bills."
Additional reporting by the Press Association.