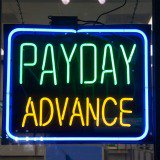 A crackdown on unexpected fees charged by payday loan middlemen has been unveiled by the industry watchdog.
The new rules from the Financial Conduct Authority (FCA) ban credit brokers from charging fees and requesting payment details unless customers have clear information about who they are dealing with and the fees payable. So these rules are more about the transparency of fees than actually limiting the fees themselves.
The FCA had identified people often did not realise they were dealing with a broker rather than a lender.
These types of firms should be avoided anyway, as payday loans should only be seen as a last resort. Even then, there is no need to go via a middleman. (See our Payday Loans guide for alternatives if you're struggling.)
What the rules state
From 2 January, this is what will be in place:
Credit brokers must state their legal name as it appears in the Financial Services Register (not just its trading name), in all advertising and other communications with customers.
They must include a statement setting out if the firm is, or is acting as a credit broker rather than a lender.
While no cap on the fees charged has been set, they must clearly state that a fee will or may be payable, the amount or likely amount, and when and how the fee will be payable.
Fee-charging brokers will also need to report quarterly to the FCA giving information on their website domain names.
If they apply online or by phone via a credit broker, customers will be given 14 calendar days to cancel and get a refund of the fee.
Helen Saxon, MoneySavingExpert.com's senior money analyst, says: "Sadly, this type of rogue broking is rife, particularly in the payday loan sector.
"We've had many people writing in to MoneySavingExpert.com saying they thought they were applying for a loan, only to have £70 or more taken out of their account by a broker who didn't even find them a loan. So it's good to see that the FCA will be coming down hard on brokers.

"I hope that, from January, it'll become a lot clearer what services brokers are providing, and at what cost."
The move comes as the FCA says over 40% of complaints it's received "over the last few months" relates to credit brokers, with 80% of those relating to firms charging upfront fees.
And just today, the Financial Ombudsman has revealed that between 1 April 2014 and 31 October 2014, 13,348 people complained about credit broking. This is more than double the 6,376 calls it received for the whole of the previous twelve months.
The FCA is investigating a number of credit broking firms; seven firms have been stopped from taking on new business and, to date, three further cases have been referred for enforcement action.