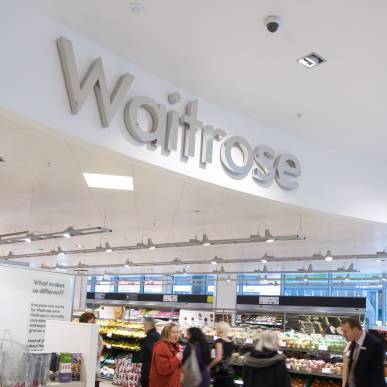 Waitrose will shortly scrap an offer that allows members of its loyalty card scheme to get a totally free coffee or tea if they sit in its cafes – even if they buy nothing else.
Members of the scheme have been emailed to say that from 9 February if they wish to enjoy a free hot drink when sitting down in one of its cafes they must also purchase a "treat" such as "a sandwich, cake, biscuit or piece of fruit". This has already been trialled in some stores (see our Waitrose deals page for details on how to get the offer).
If you're a member of its scheme you will still be able to get a free hot drink from its cafes or from the self-service machines if it's for takeaway – even if you buy nothing else.
A number of customers have voiced disappointment at the move on the MSE forum and on Twitter:
alfsmum says: "I'm disappointed but not surprised as it's always difficult to find a free table in the cafe and a fair proportion of people sit for ages with their free drink, reading the cafe paper (I include myself in that sometimes)."
DigForVictory says: "Blimey, the self-serve brew had better keep going or 98% of my building will defect back to Costa & Sainsbury's. Here's hoping Waitrose does the maths and decide us coffee monsters are worth nurturing for the occasional sprees we go on."
@Kaylsh tweeted: "Unfortunately this leaves out the people with food intolerances as @waitrose doesn't provide gluten free snacks in the cafe."
MoneySavingExpert.com's deals editor Gary Caffell says: "Many of our users are disappointed by Waitrose's change in policy. They enjoyed popping in for a free coffee and have told us they are likely to go elsewhere now.
"That said, if you don't mind having your coffee on the go, you can still get a free cup to takeaway from Waitrose's cafe or from its self-service machines."
'Not a cost-saving exercise'
The upmarket store says it is not a cost-saving exercise and it is merely reminding its myWaitrose card holders of the "etiquette" involved in its offer. "This change will enable us to continue to offer our customers the enjoyable service they expect," the email says.
A spokeswoman says: "Most people understand that if they want to sit in the cafe and enjoy their hot drink they buy something to go with it."
But she brushed off the suggestion that the change was in response to reports that Waitrose was facing a middle-class backlash from customers upset that the stores were being invaded by less well-off shoppers.
The move by Waitrose follows a similar one by John Lewis last year, which saw it limit who could get its popular free tea and cake offer (see the After a John Lewis loyalty card? Its free tea and cake offer's no longer guaranteed MSE News story).
Additional reporting by the Press Association.