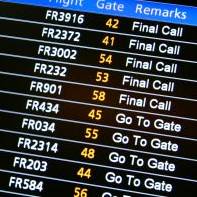 Passengers with complaints about flight delays and cancellations may be able to take them to an ombudsman-style scheme with binding powers from next year, under new plans revealed by the UK's aviation regulator.
However, the plans will only go ahead if airlines that collectively carry at least 50% of passengers departing from or arriving in the UK join it, although the UK's Civil Aviation Authority (CAA) believes there is a "reasonable level of enthusiasm" for the scheme.
At present, if a passenger tries to claim compensation for a delayed or cancelled flight but fails to get anywhere with their airline, they have to then take their claim to either the aviation regulator in the relevant country or the European Consumer Centre (see our Flight Delays guide for full details on claiming).
But neither European aviation regulators or the European Consumer Centre can force airlines to pay out, even where they deem the airline is in the wrong.
The CAA wants a new scheme to be set up by the industry to deal with all aviation complaints about flights departing from and arriving at UK airports, including those related to flight delays and cancellations.
Its planned scheme will have binding powers, meaning airlines will have to comply with any decision it makes. Passengers who are unhappy with its decisions can still go to court if they disagree with the outcome. However, the scheme will be voluntary, so it will only deal with complaints from member airlines.
It may also introduce a fee for consumers submitting complaints to discourage "spurious and poorly prepared claims" and "limit the involvement" of claims management companies.
But even if this does happen, it will only be payable if the case goes against you, and it may not need to be paid upfront.
What about airlines that don't join the scheme?
Consumers with complaints about airlines that don't join the scheme will still be able to take them to the CAA, but it's unlikely they'll be dealt with as they are at present.
Instead, the CAA says these complaints will probably be treated as intelligence to support its enforcement work and that it won't investigate and mediate complaints on an individual basis.
It's likely that if your airline doesn't join the scheme and you have no luck complaining to it directly, your only option to force it to pay out will be to take it to court.
What happens next?
A consultation on how the scheme will work closed yesterday – MoneySavingExpert.com submitted feedback to this. The CAA hopes to publish its response to the feedback it gets by the end of March, although this could be delayed due to the upcoming General Election.
The CAA then expects airlines that collectively carry at least 50% of passengers departing from or arriving at the UK to commit to joining a scheme by 1 September. The scheme will then begin to be set up and will open to passengers to use at some point early next year.
The move is taking place as part of an EU-wide directive on what's called 'alternative dispute resolution', which will ensure a complaints body is available for any dispute regarding contractual obligations that a consumer has with a business.
The CAA hopes enough airlines will join the scheme for it to take effect – it's not yet fully looked into alternative arrangements if it doesn't go ahead.
Does anything change now?
No. For now nothing changes – continue to submit any complaints about flight delays as normal. For full help on whether or not you're eligible, how to claim if you are, and free template letters, see our Flight Delays and Cancellations guide.