Energy giants British Gas and Npower have been wrongly telling customers coming to the end of their fixed-term contracts they'll have to pay exit fees if they switch to a different provider, MoneySavingExpert.com can reveal. Don't be fooled though – if you're in the last 49 days of your fix, you CAN switch penalty-free.
Confused customers from both firms have contacted us saying they've been given the wrong information, and are wary of switching as a result – with some told they'll have to pay exit fees of £60.
While no one's thought to have actually been wrongly charged, British Gas and Npower are now changing what they tell customers after we alerted them. We've also sent details to regulator Ofgem, which says it's looking into the matter.
To see if you can switch and save up to £200/year on your energy bills, use our free Cheap Energy Club.
How British Gas and Npower got it wrong
Information sent to some British Gas and Npower customers wrongly stated that customers leaving their fixed tariffs early would have to pay exit fees – failing to mention the Ofgem rule that means exit fees are waived for those in the last 49 days of a fix.
The terms and conditions of a recently expired British Gas fixed tariff – the 'Collective Fix December 2016', part of a MoneySupermarket collective switch – stated: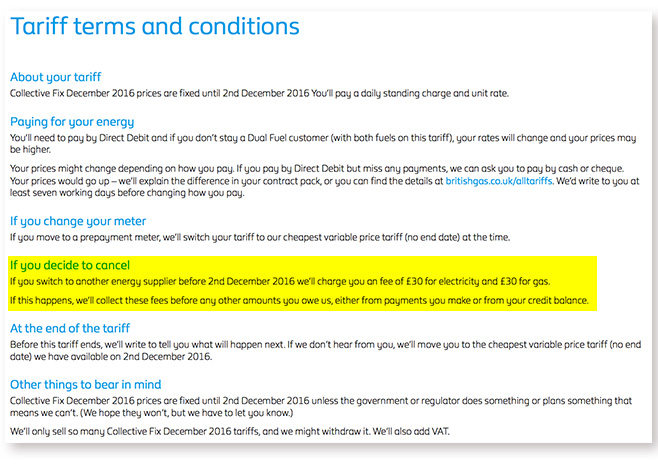 A British Gas spokesperson told us: "British Gas does not charge exit fees in the last 49 days of a fixed-term contract. We regularly review and improve the terms and conditions of our tariffs and we have updated the copy to make it clear that customers are able to switch without exit fees within the last 49 days of their contract."
Meanwhile, Npower customers who have applied to switch in the last 49 days of their fixes have been sent a confirmation email telling them they will have to pay exit fees. It states: "As you have left your tariff before the end of the fixed term, we will be charging you an exit fee."
A spokesperson for the firm blamed the misleading email on "a system error" and told us it's now in the process of changing the wording of its emails to make it clear you won't be charged exit fees in the last 49 days of a fix.
Customers left 'confused'
We've been contacted by a number of users unhappy with the exit fee warnings from British Gas and Npower.
British Gas customer Lesley, who was on its 'Collective Fix December 2016', said she was puzzled by its T&Cs after reading the rules on penalty-free switching in MSE's weekly email.
"[British Gas] seem to be unsure if your rules or theirs apply and I don't want to be charged £60 and have to fight for it back," she said. "I want to know properly where I stand and am confused."
Jill, another British Gas customer who was on the December 2016 collective fix, added: "They insist they will charge me exit fees. The man at British Gas says he has never heard of [Ofgem's exit fee rule] and I will have to pay exit fees if I switch more than 21 days before my tariff ends."
Npower customer Michael told us he had been warned to expect a bill for £60 in exit fees for a tariff due to expire on 31 December, even though he'd started the switch on 26 November – well within the 49-day window.

Energy fix ending? You DON'T have to pay exit fees within the last 49 days
Ofgem's rules state that customers must not be charged exit fees if they leave during or after the 'switching window', which is defined as "49 calendar days before a fixed-term contract ends".
You can apply to switch at any point during a fixed-term contract without having to pay exit fees, as long as the switch is actually completed during the switching window.
If you've been given incorrect info about exit fees by your energy supplier or have been wrongly charged, let us know by emailing news@moneysavingexpert.com.
How do I know when my fix ends?

Often, a fixed tariff's expiration date will be included in the tariff name (as in British Gas's 'Collective Fix December 2016' tariff), but this isn't always the case.

You can use the search function provided by online energy price-comparison service UK Power to find out the end date for your tariff – as well as any exit fees you will incur by leaving early.
When your energy fix expires, make sure you compare prices to see if you can save by switching – you can do this using our Cheap Energy Club. If you don't switch, the standard industry practice is to automatically roll you onto your supplier's 'standard' tariff, which is likely to be much more expensive.
This story was updated on 6 March 2017 to clarify how Ofgem's exit fee rules apply to switches started outside the 49-day penalty-free window but completed within it.