Energy customers are still being given incorrect info about the switching process by big six firms, six weeks after MoneySavingExpert.com revealed suppliers had been wrongly telling those coming to the end of a fixed-term contract they'll have to pay an exit fee to switch provider.
If you're in the last 49 days of your fix, you DON'T have to pay an exit fee and can switch to a different provider penalty-free. To see if you can switch and save up to £200/year on your energy bills, use our free Cheap Energy Club.
How suppliers are still getting it wrong
Last month an MSE investigation revealed that Npower and British Gas had wrongly told customers who were in the final weeks of their fix that they'd have to pay a fee to switch to a different provider – with some told they'd be charged up to £60.
In the wake of our story both companies insisted they comply with the Ofgem rule which means exit fees are waived for those in the last 49 days of a fix. And both vowed to amend their terms and conditions or other customer correspondence to make it clear to customers they can switch penalty-free.
Yet we've recently heard from several Npower customers who in mid-January received the same email as previously misinformed switchers (below), which states: "As you have left your tariff before the end of the fixed term, we will be charging you an exit fee."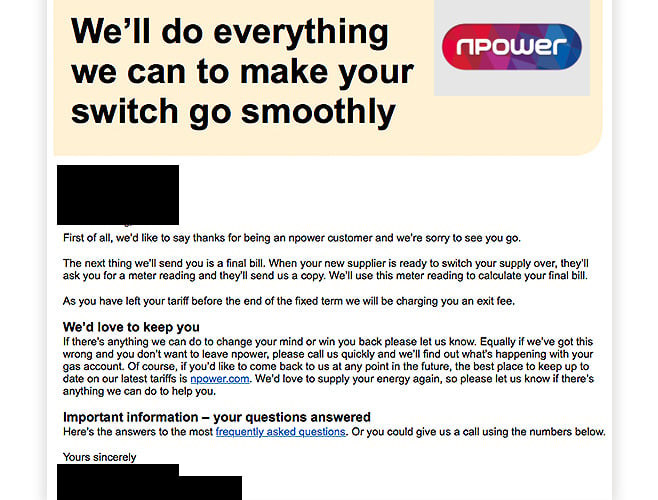 When we first approached Npower at the start of December, we were told that the misleading emails had been caused by a "system error" and that the supplier was in the process of changing the wording of its emails. However, six weeks on and the system error still hasn't been fixed and switchers continue to receive duff info.
Meanwhile a customer at another big six supplier, E.on, told us she was also given wrong info and told she would be charged £60 in exit fees unless she switched within the last 28 days of her dual fuel fix.
We've notified Ofgem of the fact that certain suppliers continue to provide incorrect info on switching, and the matter has now been referred to the regulator's enforcement department.
'Npower's email sent me into a spin'
Npower customer Steve, who "panicked" when he received its email, told us: "Despite all my research and careful switching I was sent into a spin because Npower sent me a farewell email to say 'as you have left your tariff before the end of the fixed term we will be charging you an exit fee'.
"I am disgusted with them. After spending over an hour on live chat and raising a complaint, the operator told me I wouldn't be charged."
Mike, another Npower customer who received the misleading email, said: "I went online and used the live chat facility and they confirmed no exit fee would be applied. It's a pity such a simple programme change to avoid this confusion seems to be beyond them – customer satisfaction is obviously not a priority."
An Npower spokesperson told us: "There still seems to be an error within our system which is causing the problem. Correspondence with the wrong wording was sent out, however exit fees were not charged. We are looking into the issue thoroughly."
Elsewhere, E.on customer Carolyn was given bogus info when she called the provider about her plans to switch.
She told us: "My present deal with E.on ends on 18 February. I decided to check that I could leave without an exit penalty, but they claim I have to wait until [the last] 28 days, not 49, before I am free to leave them without paying a penalty of £60 for gas and electricity. They say other companies may allow it in 49 days, but they don't."
An E.on spokesperson said: "We're very sorry that, on this occasion, there was some confusion regarding our penalty-free switching period for fixed tariffs. We believe this to be an isolated incident and our policy is to waive exit fees for customers wishing to switch to another supplier in the last 49 days of their fixed tariff. This information is communicated to our advisers."
If you've been given dodgy info about the switching process by your energy supplier, please let us know by emailing news@moneysavingexpert.com.

Duff info scuppers switches
While we're yet to hear of cases where customers in the last 49 days of their fix have actually been charged an unnecessary exit fee, we are aware of customers who've seen their switches cancelled as a result of being given incorrect info.
This happens when a customer is concerned about the prospect of having to pay an exit fee and therefore requests that the start date of their new tariff is delayed. This often leads to the new supplier cancelling the switch, leaving the customer high and dry.
MSE operations and compliance manager Dan Lautman, who oversees our Cheap Energy Club and has seen this happen, said: "Penalty-free switching isn't a new rule; it's something MSE has been shouting about for some time, so it's unacceptable that so many still get this wrong.
"In a market where energy prices are rising, this can mean that consumers needlessly spend longer on a pricey standard tariff and miss out on cheap fixes."
So what ARE the official rules on exit fees?
Ofgem's rules state that customers must not be charged exit fees if they leave during or after the 'switching window', which is defined as "49 calendar days before a fixed-term contract ends".
You can apply to switch at any point during a fixed-term contract without having to pay exit fees, as long as the switch is actually completed during the switching window.
This story was updated on 6 March 2017 to clarify how Ofgem's exit fee rules apply to switches started outside the 49-day penalty-free window but completed within it.