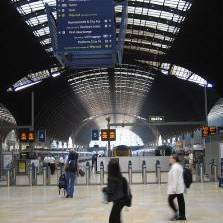 Passengers face the biggest hike in rail fares for five years with ticket costs set to rise by an average 3.4% next month.
The average increase in fares is the highest since January 2013, when prices rose by 3.9%.
Today's announcement by the Rail Delivery Group (RDG), which represents train companies, confirms unregulated fares such as off-peak leisure tickets will rise on Tuesday 2 January. Ticket costs went up by 2.3% in January this year.
In August it was confirmed that season tickets in England, which are regulated fares, will rise by 3.6%, in line with July's rate of inflation.
For full tips and tricks on cutting the cost of train journeys, see our Cheap Train Tickets guide.
What can I do to avoid paying more for my train ticket?
Anyone who books single or return tickets now for travel next year will pay the revised rates, though season tickets don't go up until the beginning of January.
If you're a season ticket holder check if you can still pay 2017 fares if you buy before 2 January – though only a small proportion of season tickets will be up for renewal during this period.
If renewing a season ticket in the next few weeks isn't an option for you, there are other options you could try. We've a full round-up of all the tips and tricks to save money in Cheap Train Tickets, but in brief...
A new 26-30 Railcard is also set to be trialled in the Greater Anglia area from tomorrow. See our Details of 26-30 Railcard trial confirmed ahead of Budget launch MSE News story for more information.
What do train operators say?
Paul Plummer, chief executive of the RDG, said: "Government controls increases to almost half of fares, including season tickets, with the rest heavily influenced by the payments train companies make to Government.
"Alongside investment from the public and private sectors, money from fares is underpinning the partnership railway's [ie, the rail industry's] long-term plan to change and improve. Working together, our plan will secure £85 billion of additional economic benefits while enabling further investment and improved journeys for customers, better connections to boost local communities and a bright future for our employees."
He added that about 97p in every pound paid by passengers goes back into running and improving services.