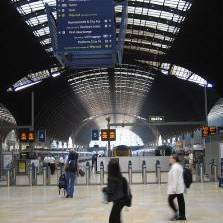 Passengers travelling home for Christmas are being sold tickets for trains that won't run, according to the transport watchdog.
Transport Focus is calling on train companies to provide accurate information about which services will be affected by engineering works, after it found more than 2,600 errors in the timetable for the 23 to 29 December.
Timetables should be finalised at least 12 weeks in advance, but Transport Focus claims some train companies have failed to meet this obligation and so some passengers are being misled.
For full tips on how to cut costs see our Cheap Train Tickets guide.
What did Transport Focus find?
As part of Network Rail's licence, it's obligated to provide 'appropriate, accurate and timely information on relevant changes' and set timetables at least 12 weeks ahead of the date of travel.
But Transport Focus claims it has seen 'numerous' short-notice changes to timetables, with particular problems on Great Western Railway and South Western Railway routes. It says this means some passengers will have made a decision to book certain tickets based on inaccurate information, and in the worst case could be stranded when they turn up for a train that's no longer running.
It also said the delay in finalising the timetable prevents the cheapest advance tickets being released, meaning only the most expensive tickets will be offered to passengers who try to book 12 weeks ahead to get the best deals.
During its research in October it found reservations were not available on Chiltern, Greater Anglia, Great Western, London Midland, South Western and Southern 12 weeks before Christmas, and Virgin Trains only had 15% available.
What is Transport Focus calling for?
The watchdog is calling for the rail industry to:
Carry out a network-wide review to ensure correct timetables are published 12 weeks ahead
Notify passengers who have already bought tickets when there have been changes to the timetable
Make sure inaccurate online timetable information is removed or warnings are applied
Anthony Smith, chief executive of Transport Focus, said: "Failure to release timetables 12 weeks ahead of travel can mean passengers buy tickets for trains that will not run. That can't be right.
"Train operators' advice is to book early at Christmas to get the best deal, but if the timetable has not been finalised only more expensive 'on the day' tickets can be bought.
"Being forced to change plans because the railway hasn't got this right will only result in more frustration from passengers. The rail industry must act urgently to make sure the timetable is accurate 12 weeks ahead if passengers are to trust they are on their side."
What do the train companies say?
The Rail Delivery Group, which represents train firms, replied to Transport Focus' letter and said: "We clearly agree this is important. We will discuss with members potentially through National Task Force, develop a plan and get back to you more fully before Christmas."
Great Western Railway also replied and acknowledged there had been a number of issues in recent months.
It said: "We will do all we can to minimise the inconvenience, to maximise information flow and to promote our full ticket range."