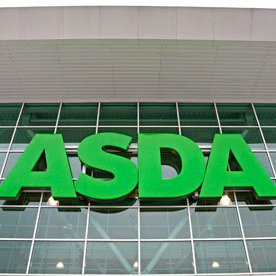 A savvy shopper has bagged £41 of shopping for 67p mainly by 'wombling' for Asda receipts others have thrown away.
Stuart Smith, from Tamworth in Staffordshire, spends 30 minutes each week scouring his nearby Asda car park for such litter.
He picks the discarded receipts up to get money off HIS shopping by converting them into vouchers via the 'Asda price guarantee'. Here, you can get money back on your next shop if comparable items from the original purchase on the receipt are not at least 10% cheaper than at Tesco, Sainsbury's, Morrisons or Waitrose. He aims to donate much of his hard-won hauls to a foodbank and homelessness charities.
Stuart used this technique to slash his outlay last week on two successful supermarket trips, getting £41 of food and drink for just 67p - including quiches, chicken, sausages, tomato puree, canned drinks, flowers, flour, cheese and 12 pints of milk. While most of the savings were via 'wombling' he also found a number of reduced items with yellow stickers.
See Supermarket Shopping Tips for tools and tricks to save on your food bills. Also check out our blog on Yellow Sticker Reductions.
Why is it called 'wombling'?
The phrase 'wombling' comes from the fictional creatures known as the Wombles, which featured in a popular 1970s TV show and collected and reused litter to make good use of "the things that the everyday folks leave behind".
Of all the supermarkets, Asda seems to be the most accepting. We've previously seen a letter from Asda which confirmed the supermarket allows the practice, and it told us this week its stance has not changed. However, you're not allowed to take receipts from bins or from within its stores.
Other supermarkets, including Sainsbury's and Tesco, aren't as clear on whether they tolerate it - more info on this is below.
'I originally did it because we had to, now we do it so we can help others'
Stuart says he started 'wombling' because he and his wife, who were both working, were struggling to pay the bills.
He said: "I profit from people being litterbugs.
"When I started this I did it because we had to, as we were struggling to pay bills. Now we do it so we can help other people who are less fortunate, which is why we get things for our local foodbank and homelessness charities.
"We pick up the Asda receipts when we are going there and don't tend to make a point of going there if we know we don't need any shopping.
"On top of that I find lots of yellow-label items which are the products which are reduced.
"Collecting the receipts is probably the least time-consuming, the longest part is going round the store and doing the shopping.
"I would say the source for inspiration was my guru Martin Lewis, he and the website saved me a small fortune on everyday bills."
The full contents of his latest shop can be found on the receipts below (albeit blurry, from his Twitter account). Click the image to make it larger:
Stuart credits MoneySavingExpert.com with saving him a small fortune over the years, and says he also follows the exploits of our Coupon Kid Jordon Cox, who famously bought £105 worth of shopping for £1.62.
How the Asda price guarantee works
If comparable items in your shop at Asda aren't at least 10% cheaper than at Tesco, Morrisons, Sainsbury's or Waitrose, you get the difference back. It works like this:
To be able to claim the vouchers you must first sign-up for an Asda online shopping account.
Then enter the barcode number from the shopping receipt on Asda's website at least three hours, and no more than 28 days, after the receipt was issued.
If your shop wasn't 10% cheaper you'll be offered a voucher for money off your next shop.
Print off the voucher, which is valid for 28 days, to take with the original receipt to the in-store checkout when you next go shopping.
See the Asda website T&Cs for full info, including what a comparable item is and how exactly the difference is calculated.
'Asda is the best place to do this' - Wombles for Cash founder
Retired internet consultant Stephen Auker founded the 'Wombles for Cash' Facebook group back in 2015, which now has more than 8,000 members
Stephen says he makes between £1,200 and £1,500 a year from 'wombling', a lot of which he donates to Cancer Research UK.
After we told Stephen about Stuart's success, he said: "I would totally encourage him, he's a man after my own heart, a lot of people can learn from what he's doing.
"Asda is the best place to do it, it's very profitable, and it doesn't condemn it, though it also does not condone it.
"If you're wombling, make it discrete, cause no problems and you'll be fine."
See our MSE 'Wombles' average £250/mth from hobby retrieving others' discarded receipts News story for more.
What do the other supermarkets say?
We asked Morrisons, Tesco and Sainsbury's what their positions were on 'wombling.'
Tesco told us the question didn't apply to it, as its brand guarantee involves giving you the difference off the price of your shop before you pay.
Sainsbury's said it encouraged customers to use their vouchers "as intended" and that stores would take a "common sense approach" to wombling.
Morrisons has yet to respond to our query.