MoneySavingExpert.com founder Martin Lewis has said he's "sickened" by a new scam which tries to trick victims using his name and profile picture on Facebook Messenger.
The worrying new con, which involves the trickster pretending to be Martin and privately messaging people, is the latest disturbing twist in the trend of fakers using Martin's reputation to try and fool victims into signing up for things such as binary trading scams, or dodgy investments.
Update 7pm Tue 13 Feb. We're pleased to hear that Facebook has now disabled the account in question for violating its policies. It says: "Fraudulent or misleading activity is not allowed on Facebook and we're constantly working to detect and shut it down using a combination of automated and manual systems." However we're continuing to warn users in case it happens again - let us know if you spot a scam at news@moneysavingexpert.com.
See our Fake Martin Lewis Ads guide for a list of scams we've seen and what to watch out for.
Martin: 'This isn't me - please help me spread the message'
Martin said: "I'm sickened that yet again people are trying to take my good name and reputation and con vulnerable people.
"I don't use private messages with anybody. Please help me spread the word that this is not me, these people should not be trusted, they are liars and possibly thieves and nobody should have anything to do with them or engage with them in anyway.
"While we have reported this to Facebook I don't have much faith in its mechanisms to deal with this, and so we have to rely on spreading the message among each other."
'No, you're not Martin': how the scam unfolded
We were quickly alerted to this latest scam by some savvy MoneySavers, who saw through the con. Here are some of the messages they received: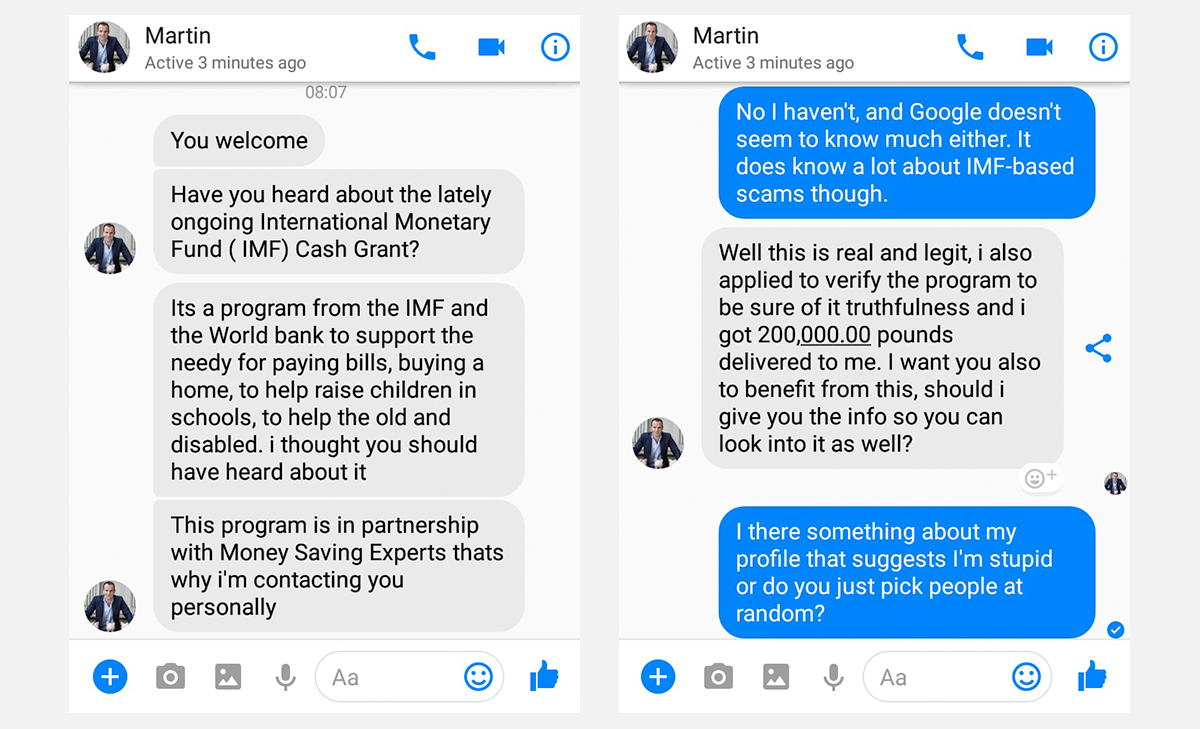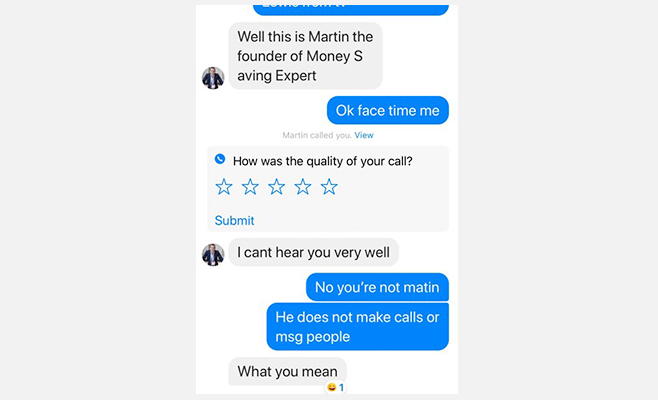 To be clear, this WASN'T a message from the real Martin, he doesn't use private messages on Facebook and the messages are completely bogus.
Here's how to report a message to Facebook
You can report and block dodgy messages you receive in Facebook, but how you do it depends on whether you're using Facebook itself or its Messenger app:
To report a message on Facebook... open the conversation you want to report and click the settings icon, then click 'report' and a message will pop up saying you can fill out a full report in the Help Centre. Afterwards you can open the message, click settings and click 'block'.
To report a message on Messenger... you can report a conversation by filling out this form. To block messages, open the conversation, click on the person's name at the top and then 'block'.
What are we doing about it?
Unfortunately we get many reports about firms and individuals either impersonating or claiming fake endorsements from Martin and MoneySavingExpert.com and leeching off the hard-earned trust people have in us.
We have reported this latest scam to Facebook, the Financial Conduct Authority and Action Fraud, and are continuing to warn people as quickly as possible about any new tricks such as this one.
We regularly update the Fake Martin Lewis Ads guide with examples of scams we've seen. If you spot a scam using Martin's name or image, please email our news team.