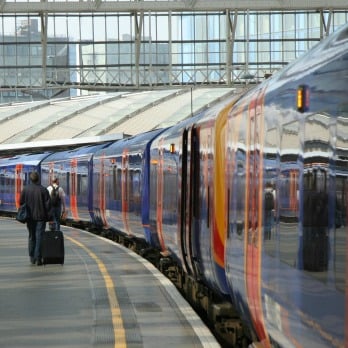 All train companies will be obliged to join a new rail ombudsman being launched to handle complaints from passengers, under plans announced by the Office of Rail and Road (ORR).
Britain's railways regulator announced its intention to alter the licenses of rail companies, so that they are required to sign-up to the new scheme.
And the ombudsman, which is expected to be launched later in 2018, will be able to make decisions that are binding for rail customers, according to the ORR.
At the moment, if a customer submits a refund request or complaint to a rail company - for example, after being delayed - and this is rejected, they have to escalate their claim to a body called Transport Focus.
Transport Focus is an independent passenger watchdog which can take up your complaint and demand a proper response on your behalf, but it can't force a company into action.
See Train Delays to find out about your rights if your train is late or cancelled.
What powers will the ombudsman have?
In November, we presented our report, Sharper teeth: The consumer need for ombudsman reform, to the All Party Parliamentary Group (APPG) on Consumer Protection.
The report came to the following conclusions:
Ombudsmen should have statutory powers to ensure that firms are cooperative with processes and compliant with decisions that have real legal teeth.
The performance of ombudsmen should be consistently higher, with particular focus on: the ease of complaining, the speed at which complaints are processed and the perception of fairness among those who complain to ombudsmen.
The time consumers must wait to escalate their complaint to an ombudsman should be cut from eight weeks.
We asked the ORR several questions about the new ombudsman, to find out if it would meet the standards we called for in our report.
The ORR told us that it would be consulting on requiring rail companies, via their operating licence, to be a member of an ombudsman approved by the Chartered Trading Standards Institute. It told us that making membership of an ombudsman a requirement for a license will have the same effect as it being a statutory body.
It also told us that it would work with the Chartered Trading Standards Institute to provide effective monitoring of the scheme and ensure it meets the high standards consumers expect of it.
The ORR also said customers will have to wait a maximum of eight weeks after raising a complaint with a rail company, to escalate it to an ombudsman, although it said in some cases this could be sooner.
Kirsty Good, MoneySavingExpert's campaigns editor, said: "The creation of a Rail Ombudsman is good news but only if done properly. Passengers need to know that when something goes wrong, and it can't resolved with the train company, they have someone to turn to who has real teeth.
"We look forward to contributing to the consultation process but we will be calling for the new ombudsman to have the necessary powers to ensure that all train companies comply with its processes and decisions. Those decisions must stand up in court and already-frustrated passengers shouldn't have to wait eight weeks for their complaints to be dealt with."
'An ombudsman scheme will give passengers real certainty'
ORR Deputy Director of Consumers, Stephanie Tobyn, said: "Our surveys show that passengers are often dissatisfied with the way their complaints are handled, and this damages their trust in rail companies and the railway industry in general.
"An ombudsman scheme will give passengers real certainty, consistency and clarity in how their complaints are handled; that is why we want every rail company to be required to join it."
A spokesman for the Rail Delivery Group said: "The Rail Delivery Group and train companies committed last year to introducing a new independent ombudsman to investigate and rule on unresolved customer complaints.
"The partnership railway, in its recently published long-term plan, has committed to increase customer satisfaction by improving the railway to remain the top-rated major railway in Europe.
"The creation of a new ombudsman, supported by the industry, will help build confidence in our services and we are pleased that the rail regulator supports this."