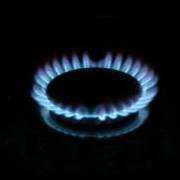 More than five million customers switched their energy deals last year and over half moved to smaller suppliers, according to the latest data.
New data from energy regulator Ofgem shows that energy switching has hit a nine-year high as over five million customers switched their electricity supply and four million switched their gas during 2017.
One in five consumers are now with small and medium-sized suppliers, and it's likely many are moving to the smaller suppliers to bag bigger savings. The average big six standard tariff costs a typical user a massive £1,132/year, compared to £807/year on the cheapest deal with a small supplier - that's a saving of £325 .
Despite this, the regulator has said that around 57% of billed consumers remain on typically poor value standard variable tariffs with one of the 10 largest suppliers, including the big six (British Gas, E.on, EDF, Npower, Scottish Power and SSE) plus First Utility, Ovo, Utility Warehouse and Co-op Energy.

If you're one of the 57%, you could slash £100s/year off your energy bill NOW with our free Cheap Energy Club.
Switching hits nine-year high
Both gas and electricity switching is at its highest point for nine years - following a collapse in the number of people switching between 2009 and 2014.
In recent years switching rates have continued to climb as this graph shows: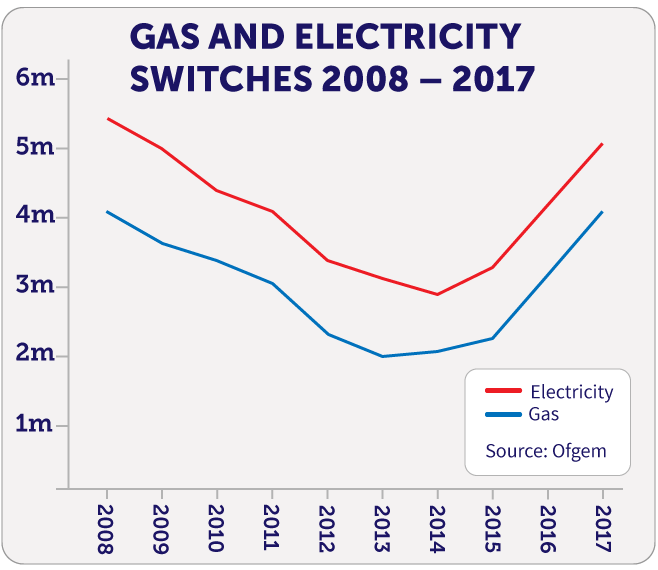 Consumers surge to small suppliers
The majority of switches in 2017 was away from the big six suppliers, with 55% of all electricity and 57% of all gas switches going to small and medium-sized suppliers.
Over a fifth of consumers are now with small suppliers - with 21% of electricity and 22% of gas consumers now with a smaller supplier. This compares to just five years ago, when smaller providers accounted for only around 5% of the electricity and gas market.
This has left the big six's market share at a record low - combined, they accounted for 79% of all electricity and 78% of all gas customers at the end of 2017, down from a share of 84% for both gas and electricity in 2016.
'The largest suppliers are under pressure'
Ofgem chief executive Dermot Nolan said: "The largest suppliers are under pressure as more consumers switch away to small and medium sized suppliers.
"With more customers voting with their feet, the message is clear: suppliers need look at what they are offering to their customers or risk losing them.
"Nevertheless, there are still too many consumers who are paying too much for their energy, which is why we are introducing price protection whilst we reform the market, to make competition work for all consumers."
Have your say