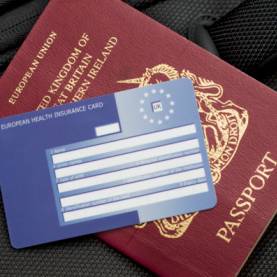 Almost three million people let their European Health Insurance Card (EHIC) run out in 2017, MoneySavingExpert.com can reveal - and in total almost nine million cards have expired since the end of 2014. If you're due to travel in other European countries, check now if yours is still in date.
An EHIC – which is free to apply for – entitles you to free or discounted medical treatment at state-run hospitals and GPs in any European Union country, plus Iceland, Liechtenstein, Norway and Switzerland.
Figures obtained by MoneySavingExpert under the Freedom of Information Act from the NHS Business Services Authority, which issues EHICs, show that 2,937,263 EHICs were allowed to expire last calendar year – and a further 251,215 expired in January 2018.
Overall since December 2014 almost nine million EHICs have expired – though it's not clear how many of these may have been later renewed.
While the NHS and others regularly warn that millions of EHICs are due to expire each year – the figure is 5.4 million in 2018 – the stats we've received show how many cards actually ran out before possibly being renewed.
For full info on how EHICs work and how to apply, see our EHIC guide.
How many EHICs have actually run out?
Here's the data we were given in response to our Freedom of Information request:
How many EHICs have expired?
| Year | No. of EHICs that expired |
| --- | --- |
| 2018 (Jan only) | 251,215 |
| 2017 | 2,937,263 |
| 2016 | 3,391,209 |
| 2015 | 2,318,712 |
| 2014 (Dec only) | 67,295 |
Of course, some may have chosen not to renew their EHICs immediately, for instance if they had no plans to go to Europe in the near future – you can renew your EHIC for up to two years after it's expired, and otherwise apply for a new one. But if in doubt it's best to renew straightaway, as it's free, delivery can take seven to 10 days and you don't want to risk forgetting.
Check if your EHIC's due for renewal
It's easy to check the expiry date of your EHIC – it's the date at the bottom right of the card, where it says, er, 'expiry date'.
EHICs last five years, and you can apply to renew one up to six months before it's due to expire. If you apply early though, time left on the old card won't be added to your new card.
How to renew your EHIC
You can renew or apply for a new EHIC using the EHIC online application form. If you're renewing – and your details aren't changing – the process will be simpler.
You can also apply or renew by phone, on 0300 330 1350, or by post.
To get your EHIC by post, use the application form from the NHS website, fill it in and post it to NHS Business Services Authority, European Health Insurance Card, EHIC Applications, Bridge House, 152 Pilgrim Street, Newcastle Upon Tyne, NE1 6SN.
Watch out for websites demanding a fee for the EHIC. If you search online for "EHIC" you'll find sites that describe themselves as "reviewing" or "forwarding" services, charging £20 or more to process your application. They often look official, but scroll to the bottom and you'll find a tick box asking for cash. See our Copycat websites guide for more on what to watch out for.
What does an EHIC do?
If you're in Europe and you've got an EHIC, you'll be entitled to the same treatment that local citizens are entitled to – extremely useful in emergencies.
Getting one is free. Full eligibility criteria for the EHIC can be found on the NHS website, but ordinarily, if you are a resident of the UK you'll be entitled to a UK-issued EHIC.
It's also worth noting the EHIC covers all EU countries plus Iceland, Liechtenstein, Norway and Switzerland. Some (but not all) overseas territories are also included – for example, Portugal's cover includes the Azores and Madeira. See our Country-by-country EHIC guide for full info.