TalkTalk is the most complained about broadband and landline provider according to new data from the communications regulator.
Ofcom has today published its quarterly league tables for the number of complaints it receives about the UK's major landline, mobile, broadband and paid-for TV providers - the data relates to the last three months of 2017.
The data shows TalkTalk received 31 complaints per 100,000 broadband customers and 23 per 100,000 landline customers, compared to 30 and 21 respectively in the previous quarter.
The overall volume of complaints in the quarter across all four services hasn't changed dramatically, but after years of MSE warnings, Vodafone is no longer the most complained about mobile firm. Back in the first quarter of 2016, Ofcom received 29 complaints about Vodafone per 100,000 customers, but in the last quarter of 2017, it received 11, the same number as BT.
Which companies received the most complaints?
Data on the companies that received the most and least complaints can be seen below: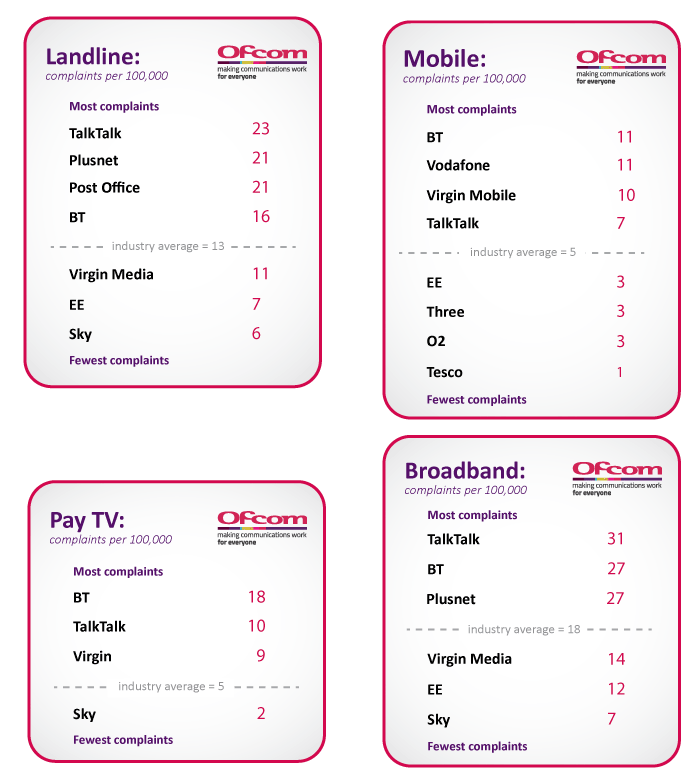 Unhappy with your provider? Vote with your feet
If you've had issues with your provider, such as slow broadband speed, poor mobile network coverage or wrong payments taken, these can be useful when negotiating a better deal with your provider.
Then again, you don't have to stay with them - if you've had repeated problems with a company, vote with your feet and leave - although check if there's exit fees before you do so.
Benchmark your best deals by comparing broadband, landline and TV deals using our Broadband Unbundled tool and the Utilities section of our site, and then decide if you want to haggle a better deal with your current provider, or switch.
What does Ofcom say?
Jane Rumble, Ofcom's director of consumer policy, said: "These figures give people the information they need to shop around and compare providers' performance.
"The scorecards also motivate companies to improve their performance, and we want to see them follow through on their promises to give customers better service."
"Complaint volumes is one of many measures that can shine a light on service quality. Next month, we will publish our annual provider comparison report, which will present a range of other indicators such as customer satisfaction."
What does TalkTalk say?
A TalkTalk spokesperson said: "We always strive to provide the best possible experience and are disappointed by these results. Ofcom's historical data reflects a short period last year which coincided with the closure of our contact centre in India. The move was part of a major investment to improve our services but caused some temporary disruption for customers.
"We continue to roll out service improvements, including new online tools to help customers resolve issues more quickly and conveniently."