Vodafone remains the most complained-about mobile firm by a clear distance, according to the latest stats from the telecoms regulator Ofcom which cover January to March of this year. It comes as MoneySavingExpert.com continues to warn all Vodafone customers to check their bills ASAP.
The number of complaints about the mobile phone giant dipped slightly since the previous quarter, but there were still more than three times as many complaints about Vodafone as the next most complained-about provider.
Last month MoneySavingExpert.com urged all Vodafone customers to check their bills for errors, after our investigation uncovered a huge number of problems with billing, incorrect tariffs, customer service and other issues. See our Vodafone Warning guide for full info.
What the latest figures show
Over the course of the first three months of the year, 29 in every 100,000 Vodafone pay-monthly customers filed a complaint with Ofcom, compared to 32 complaints per 100,000 in the previous quarter.
The next most-complained about network was Talk Mobile (also owned by Vodafone), with eight complaints per 100,000 pay-monthly customers, followed by EE with six, Virgin with five and Three and O2 with three each.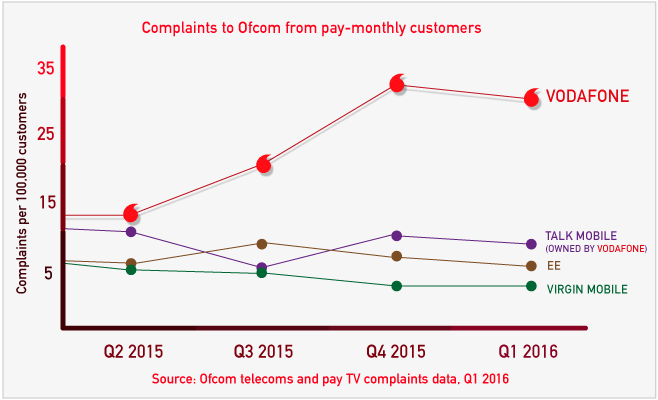 'I was overcharged £330'
Since we published our Vodafone investigation last month, we've had 1,000s of responses from users, with many saying they too have discovered a problem. Examples of issues include customers being put on a different tariff to the one they asked for, direct debits being incorrectly set up and payments being taken even after a contract has been cancelled.
Anna emailed: "I just wanted to thank you for encouraging Vodafone customers to check their bills. Last month I noticed I was overcharged £330. I contacted Vodafone and was promised that bill will be amended before my direct debit collection."
Daphne said: "I have been contacting Vodafone since March as they have been overcharging me. Every time I rang they said they would credit me within five to seven days, but nothing happened."
Adriana emailed: "After chasing Vodafone for three months for my bill, they finally got back to me saying I owe them £67. When I refused to pay over the phone, they told me that I will receive a paper bill within two to three working days. Everything good until two hours later when I was contacted by them and [was] told that if I don't pay direct debit I will be charged a late payment fee every month."
Commenting on the latest Ofcom complaint figures, a Vodafone spokesperson said: "Since the beginning of the year we have made significant investments in additional call centre resources and have implemented numerous specific improvements to our systems with the objective of improving the customer experience overall.
"We continue to work hard and invest significantly to further improve our customers' experience and we are starting to see the early benefits of the significant efforts we are making, with this report showing a 10% quarter-on-quarter fall in complaints to Ofcom and our own data showing that trend continuing. We apologise to any customer who has had an issue with our service – we will do better."
How to check if you're affected
When we published our investigation last month, we urged all Vodafone customers to check their bills asap – the sheer scale of reported problems means you can't assume you've automatically been charged correctly.
1) Your bill may be wrong – check it. Look at your most recent bill (if you don't have a paper bill to hand, check online) and simply see if anything looks wrong to you. You know your tariff (check your email confirmation or paperwork if unsure) and usage better than anyone.
2) Even if your bill's correct, check your bank statements too. Some people have have found the wrong amount's been taken, so make sure you've not been double- or triple-charged, and if you've cancelled, check you're not still paying.
3) Found a problem? Check your credit score too. We've heard of a number of cases where a mistake on Vodafone's part has led to credit agencies and debt collectors getting involved – meaning credit scores are damaged as a result.
For full info on how to do this and what to look for – plus what to do if you're affected – see our Vodafone Warning guide.
What else do the Ofcom stats show?
The Ofcom figures also identify the most complained-about firms for landline phones, home broadband and pay TV:
Landline phone. The Post Office topped the list with 29 complaints (per 100,000 customers), closely followed by TalkTalk with 28. Of the big providers, BT recorded 19 complaints per 100,000 customers, while Virgin Media and Sky attracted the fewest complaints with just 6 per 100,000 each.
Broadband. EE had the dubious honour of topping the complaints league for broadband providers with 34 per 100,000 customers – BT was second with 31. Virgin Media and Sky once again delivered the fewest number of complaints of the major providers, with 8 and 6 per 100,000 respectively.
Pay TV. BT was hands down the most complained-about in this sector with 20 complaints per 100,000 customers. TalkTalk was a distant second on nine complaints per 100,000, while Sky performed best of the major firms with just one complaint per 100,000.