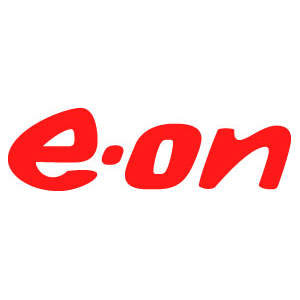 Big six energy firm E.on has changed the smart meter letters it sends to customers - after MoneySavingExpert highlighted it was wrongly telling them it needed to install the meters in "all" homes.
E.on's latest letter to customers now lets them know they can decline the offer of having a smart meter installed if they wish.
Back in January, we reported that E.on was sending out letters to customers stating: "We need to install smart meters into all of our customers' homes". At no point in the letter was it mentioned that smart meters are not compulsory.
For full info on how smart meters work and the pros and cons, see our Smart Meters guide. Plus check if you can save £360 /yr on your energy bills with our Cheap Energy Club.
How have the letters changed?
The letters sent by E.on in January, seen by MoneySavingExpert.com, reads: "Your electricity meter is an old model that we need to replace with our free self-reading smart meter."
It continues: "We need to install smart meters into all of our customers' homes as part of a nationwide upgrade programme."
At no point in the letter was it mentioned that smart meters are not compulsory.
The energy regulator Ofgem told us at the time that customers have the "right to decline" smart meters. After we ran our MSE E.on gives customers the hard sell on smart meters News story about the letters, hundreds of MSE readers shared their thoughts on our forum and social media pages, and an E.on company representative posted on our forum saying they would make the company's senior management aware of the comments.
Now the new letters, sent in April, no longer say that smart meters need to be installed in "all" customers' homes, and add: "If you don't want a smart meter at this time, please call us and let us know."
You can see both the letters side-by-side below: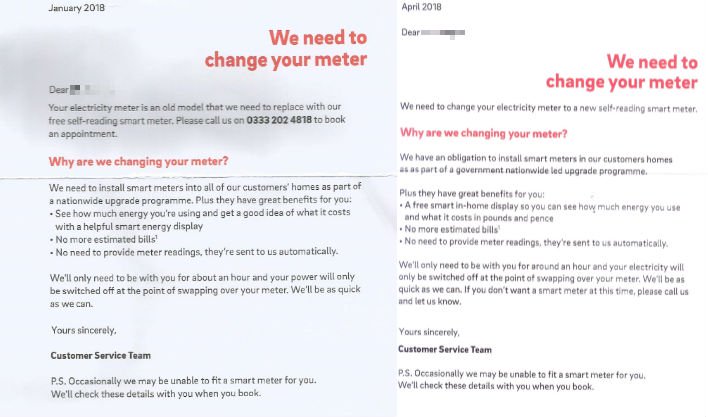 What does E.on say?
An E.on spokesperson said: "We believe smart meters are in the best interests of customers, helping them gain greater clarity of their energy use and end estimated bills, and this is also part of our commitment to Government.
"However, smart meters aren't compulsory and, following feedback from some customers, we've recently updated our core correspondence to make it clear that customers can contact us if they don't want to have a smart meter installed.
"And for customers who don't want to wait to be contacted, they can visit eonenergy.com/smart to find out more about smart meters and to see if they can apply to get one fitted today."
Ofgem has received 120 complaints about smart meter communications
The change in E.on's smart meter letter comes as new statistics reveal the energy regulator Ofgem has received 120 complaints about smart meter communications since January 2016.
A MoneySavingExpert.com Freedom of Information request to Ofgem found that out of 786 enquiries about smart meters, more than one in seven was a complaint from a consumer relating to information from suppliers.
An Ofgem spokesperson said: "Ofgem is closely monitoring suppliers' approach to the roll out of smart meters and we are in regular contact with suppliers, including around testing and revising their communications to make sure they are transparent and accurate.
"120 of 786 enquiries about smart meters made to Ofgem since January 2016 reported negative experiences with a supplier's communications, including around arranging installations, billing, declining a smart meter and switching supplier.

"Millions of consumers are enjoying the benefits of smart meters, with a recent study finding that 73% of consumers with a smart meter would recommend it to others."
Should I get a smart meter now?
As well as being free, smart meters do offer a lot of benefits over traditional meters, including automatic readings and an end to estimated bills.
There's one big snag currently though - most smart meters being installed at the moment are still first-generation SMETS1 meters, which will lose most of their functionality and essentially become a standard meter if you go on to switch supplier.
Although this doesn't stop you from switching, if you know you're going to switch provider soon, you may want to wait until AFTER you switch to get one.
New second-generation smart meters, known as SMETS2 meters, WILL be able to keep their functionality after you switch. So if you're offered a smart meter, check to see which type you are being offered first. E.on has told us that it is currently testing SMETS2 and intends to roll these out further in the coming months.
See our Smart Meters guide for more info.