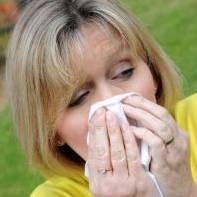 Tens of thousands of hay fever sufferers are overpaying for tablets - in some cases by more than £6 each time - because they get a prescription when it would be cheaper to buy them 'over the counter'.
NHS data obtained by MoneySavingExpert under the Freedom of Information Act shows that patients in England paid for over 180,000 prescriptions for the three main hay fever remedies in 2016 and 2017.
Each prescription cost the hay fever sufferer between £8.20 and £8.60. Yet the drugs could all have been bought much cheaper 'over the counter' elsewhere - ie, by simply picking them up off the shelf and paying at the till, or ordering online, with no prescription needed. In some cases they would have cost as little as £1.99.
While those who get hay fever meds on prescriptions often overpay, it's important to note they can win in some situations – for example if you don't pay for your prescriptions, you already have a prescription prepayment certificate or if you need an unusual or specific type of medication. If you're unsure what medication you need, are taking other medication or have allergies always check with a pharmacist or GP before buying 'over the counter'.
If you're buying hay fever medications and pay for your prescriptions, always check if 'over the counter' is cheaper first. See more tips in our Cheap Hay Fever Tablets and Cheap Medicines guides.
'Always check if a prescription's REALLY cheapest'
Steve Nowottny, news and features editor at MoneySavingExpert, said: "The message for hay fever sufferers is simple. Don't assume that just because you've been issued with a prescription, that's necessarily the cheapest way to get the medicine - always check.
"Ideally pharmacy staff would warn patients if they're about to pay for a prescription when over-the-counter's cheaper, but this doesn't always happen - so do a quick scan yourself. Particularly if you're a long-time sufferer, the potential savings are not to be sneezed at."
How patients are overpaying
When it comes to hay fever medications, there are a lot to choose from. The NHS tends to use generic medicines as they're far cheaper than branded equivalents and have the same 'active' ingredient (ie, the medicinal magic which makes the drug work).
But even with generic medicines, there are different ways to buy them. You can simply pick one up off the shelf or order online (what's known as buying 'over the counter'), or you can take a prescription up to the pharmacy counter. In both cases you'll get a generic medicine with the same active ingredient, though the packaging may vary.
We focused on the three main 'generic' hay fever remedies which can be sold over the counter:
Cetirizine (Piriteze equivalent)
Loratadine (Clarityn equivalent)
Chlorphenamine maleate (Piriton equivalent)
The NHS says patients in England paid for 102,773 hay fever medicines on prescription in 2016 and 83,530 in 2017, at a cost of between £8.20 and £8.60 - depending on exactly when they paid - each time. (This DOESN'T include prescriptions which patients didn't have to pay for, for example if they were pregnant.)
Our analysis shows all of the drugs could have been bought for less if the patient had bought 'over the counter' elsewhere instead, either in-store or by buying in bulk online. For example a 30-pack of the most frequently prescribed hay fever medicine, cetirizine, currently sells for just £1.90 in Asda. And while some prescriptions cover 90 tablets, even then over the counter is cheaper - 120 cetrizine costs £2.79 at online pharmacy PharmacyFirst.
The exact saving patients would have been able to make would depend on when they paid for their prescription, but we found 30 cetirizine available for £1.99 from Boots when we checked prices in June 2017, so patients buying on a prescription then could have overpaid by a whopping £6.61 per pack. Here's a detailed breakdown of the figures:
How many hay fever prescriptions were paid for
Medicine
Prescriptions paid for in 2016 (£8.20-£8.40)
Prescriptions paid for in 2017 (£8.40-£8.60)
Cheapest 'over the counter' in 2016/17 (1)
Cheapest 'over the counter' now (2)
30 cetirizine
35,086
28,118
£1.99
£1.90
60 cetirizine
23,876
19,441
£3.37
£2.79 (for 120 tablets)
90 cetirizine
6,868
5,733
£2.79 (for 120 tablets)
£2.79 (for 120 tablets)
30 loratadine
15,604
12,804
£1.99
£1.50
60 loratadine
10,807
8,451
£3.37
£3
90 loratadine
2,701
2,196
£4.06
£4.79 (for 180 tablets)
28 chlorphenamine maleate
4,856
4,265
£2.68
£2.70
56 chlorphenamine maleate
1,693
1,508
£3.37
£4.04
84 chlorphenamine maleate
1,282
1,016
£4.06
£4.94 (for 112 tablets)
(1) Prices from our Cheap Hay Fever guide in June 2016 and June 2017, based on cheapest we found in-store or online. (2) Prices correct as of 8 May 2018 and checked online at Asda, Boots, Chemist-4-U, Lloyds Morrisons, PharmacyFirst, Sainsbury's, Superdrug, Tesco and Wilko.
The NHS data also showed patients paid for a much smaller number of prescriptions for more unusual hay fever medication, such as capsules rather than tablets or branded medication. We haven't included these in our analysis though as it's possible the prescriptions were issued for specific reasons such as the patient having allergies or generic versions of the medicine not being available.
Why are people paying more for a prescription?
The honest answer is, it's not entirely clear. It's likely in many cases that patients simply aren't aware they can get the same medicines over-the-counter for less.
In some cases it's possible the over-the-counter cost in the pharmacy a patient has taken their prescription to is more than a prescription - even though over-the-counter is cheaper elsewhere. For example, currently Lloyds Pharmacy sells 60 own-brand cetirizine tablets for £10.48 - more than the £8.60 for a prescription.
We showed our findings to the Royal Pharmaceutical Society. A spokesperson said possible explanations for patients paying for a prescription when 'over the counter' is cheaper include not knowing the drug can be bought without a prescription or the tablets historically having been more expensive or only available on prescription.
The spokesperson added: "We advise that most people with hay fever, who require antihistamines, should be buying them from a community pharmacy."
How to cut the cost of hay fever medicine
Our Cheap Hay Fever Tablets guide has full help, but in brief:
Pay up to 70% less for the same active ingredient. As mentioned above, the big saver is to swap branded products such as Clarityn and Piriton for generic equivalents if you can, as it's the 'active' ingredient, dose and formulation of the medicine (eg if it's a tablet or syrup) that matters, not the snazzy packaging.
Online tends to be cheapest for bulk-buying. Packs of tablets can cost as little as 45p but due to delivery costs this is often only a good deal if you're buying a few. See our online buying safety tips.
Own-brand tablets from big-name pharmacies can be almost pricey as prescriptions. For example 30 'own-brand' cetirizine tablets from Boots currently cost £5.77 online, but it's selling 30 non-branded cetirizine tablets for £1.99 - so make sure you check for the best prices.
If in doubt ask your pharamacist or GP for help. If you're unsure don't be afraid to ask a health professional to help. Remember to check if the medicine will be suitable with any allergies you have or any other medication you're taking.
Overpaying via prescription costs the NHS too
It's not just patients who can end up overpaying. At the end of March the NHS issued guidance to clinical commissioning groups, which run health services in local areas, warning that stopping routinely prescribing 'over the counter' medicines could save the NHS £100 million each year by reducing admin costs.
Medicines for "mild to moderate hay fever" and "seasonal rhinitis" were among those which the NHS wants to stop seeing prescribed - it reckons these cost it £1.1 million annually. Other examples include medicines for conditions such as constipation, dandruff, indigestion, mouth ulcers and travel sickness.
The NHS guidance says there are "hidden costs" it pays when you buy on prescription: "For example, a pack of 12 anti-sickness tablets can be purchased for £2.18 from a pharmacy whereas the cost to the NHS is over £3.00 after including dispensing fees. The actual total cost for the NHS is over £35 when you include GP consultation and other administration costs."