TSB has apologised after it cancelled some former customers' direct debits and mistakenly told the firms they were paying that they had died, MoneySavingExpert can reveal.
Several former TSB customers who've switched away from the bank following its IT meltdown have this week reported receiving letters from various organisations including United Utilities, the RAC and local councils saying they are sorry to hear of their passing. The letters also say that their direct debits have been cancelled.
Confused by the correspondence, customers have then got in contact with those who have sent them the letters, and been informed that TSB has told them they have died.
TSB told MoneySavingExpert "a small number" of customers switching or closing their account had been affected and said it was "deeply sorry". One of the affected customers told us he has been offered £250 in compensation.
See our TSB online banking problems guide for more info on the bank's recent issues.
'I've had to phone every company and tell them I'm not dead'
We've heard from several TSB customers who have switched away from the bank since the start of its IT problems using the Current Account Switch Service (CASS).
The switches appear to have gone through. However if you switch via CASS you're supposed to have your outgoing payments including direct debits switched across to your new bank - and those we've heard from have said this hasn't happened.
Robert, from Merseyside, switched from TSB to NatWest, and his switch went through on Tuesday 15 May. He's had four organisations contact his household and tell him that his direct debit had been cancelled because of his passing.

He told us: "CASS was of course meant to be straightforward. Yet now I'm having to ring a number of companies and tell them that I'm alive and ask them to set up direct debits. It's all been a massive inconvenience.

"I have just had a letter from my council today saying that my house has now got a new owner/occupier. I rang them and they said that TSB had told them that I was deceased.

"I have tried calling TSB four times and given up as they just never answer, apart from the fourth time. Then, I got through after 25 minutes of waiting, told them what had happened and just got cut off. I was expecting a call back but it never happened. I am now in a position where I'm worried that I'm going to miss direct debits because TSB have failed to set them up with my new bank details."
Mark switched from TSB to Halifax. He also had four organisations, including his gas and electricity provider, contact his household and tell him that his direct debit had been cancelled because of his death.

He said: "I've had to phone every company and tell them I'm not dead and give them my new bank details, which I feel I shouldn't have to do, and they are all saying it's what TSB had told them.
Peter, from West Yorkshire, had a similar issue after switching to Halifax. He said: "I applied to switch my current account from TSB to Halifax after the IT issues and branch closures. Switch went ahead on 4 May - all ok. Then next thing I started getting letters and calls to say direct debits have been cancelled. Turns out on 10 May TSB told all my direct debits the instructions were cancelled. They also told the DVLA I had died and this was why direct debits were cancelled."
Below is the letter one of the customers was sent from United Utilities: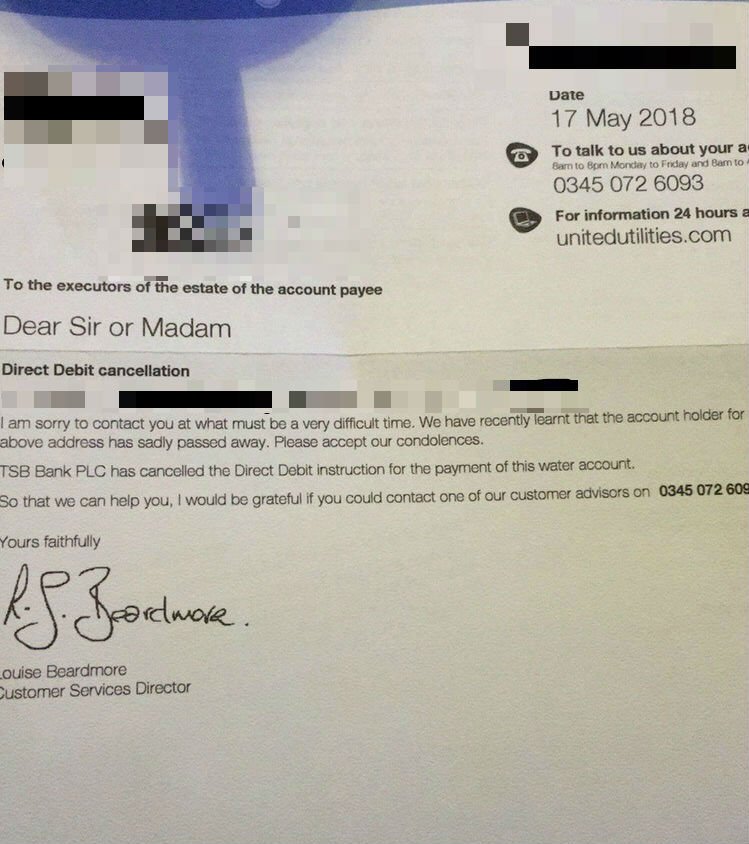 What should happen when you switch using CASS?
CASS was launched in 2013 to simplify the process of switching between banks. Here's how it's supposed to work when you switch bank:
For 13 months after you've switched, your new provider will arrange for payments accidentally made to your old account, or taken from your old account, to be automatically redirected to your new account. It will also contact the sender and give it your new account details.
Your new provider will move payments going out, such as direct debits and standing orders, and those coming in, such as your salary, to your new account.
If you have money in your old account, this will be transferred to your new account on your switch date.
If anything goes wrong with the switch, your new bank will refund any interest (paid or lost) and charges made on either your old or new current accounts as a result of this failure. You'll have to ask your new provider for this though.
A spokesperson for CASS said: "We can confirm that the Current Account Switch Service continues to operate as normal and at no time has the service been unavailable to customers wishing to switch their current account.
"Bacs and the CASS participant community are working closely with TSB to complete the impacted switches, and we would also remind anyone using the service that they are protected by the Current Account Switch Guarantee in the event of an error with their switch."
If you do experience a problem after switching your bank account using CASS, you should typically contact the bank you have switched to, not TSB.
'The latest bizarre twist'
Steve Nowottny, news and features editor at MoneySavingExpert, said: "This is just the latest bizarre twist in the TSB tale, as the fallout from its massive IT meltdown continues. Even ex-customers who've decided to switch away and bank elsewhere seem to still be experiencing problems."
"TSB needs to urgently get to the bottom of what's gone wrong here, and fix it. It must also be transparent about exactly how many customers have had direct debits cancelled when switching – and ensure anyone affected is appropriately compensated."
What does TSB say?
A TSB spokesperson said: "We are aware there was an issue with a small number of our customers switching from or closing their account with TSB, which resulted in an error in the cancellation or transfer of some of their direct debits.
"We are deeply sorry for any distress caused. We are working to rectify this issue and we are really sorry for the inconvenience caused."