TSB asked rival banks to 'hold' switching requests from its customers on Friday in the middle of its IT meltdown, MoneySavingExpert can reveal.
A huge number of TSB customers have threatened to quit the bank after more than a week of online banking chaos. But some who have tried to switch since last Friday have found they are unable to do so - and have been told by the banks they've tried to switch to that this was because of issues with TSB's systems.
TSB has admitted it contacted the Current Account Switching Service and asked it to advise other banks to suspend switching requests for a "short period" on Friday, after "a temporary issue with customers being able to switch ... to another provider".
TSB insists the issue is now resolved, so if you've tried to switch away from it and were unable to do so, you should try again. However one TSB customer says she was told this morning (Tuesday) that she was unable to switch to Halifax because TSB "couldn't process" the switch.
Affected by TSB's problems? See full help and how to claim compensation in our dedicated TSB online banking problems guide.
'I am not happy - I want to leave ASAP'
While TSB's said it asked banks to temporaily stop switches on Friday, we've heard from two TSB customers who've been unable to switch since then. Both say they were told by the banks they were trying to move to that they couldn't switch due to issues at TSB's end.
Deborah Reilly, from Johnstone in Renfrewshire, says she went to her local M&S bank branch on Sunday to try and initiate a switch because she was unhappy with the online banking problems - but found she wasn't able to.
She said: "I tried to do a bank account switch to be told TSB have put out an alert to all banks informing them not to accept switches from TSB customers as their systems are down.
"The gentleman that I saw took a photocopy of my driving licence and told me he would call me as soon as they are given the all clear to accept switches. I am not happy - I want to leave them ASAP."
An M&S Bank spokesperson told us: "We could open an account for the customer but we couldn't complete the switch due to an issue experienced by her existing current account provider."
Hayley Cumming, from Falkirk in Stirlingshire, originally tried to move from TSB to Halifax last Tuesday, and was told today (Tuesday 1 May) TSB "couldn't process" the switch.
She said: "I applied last Tuesday and got a text today saying it couldn't be done and when I called they advised TSB couldn't process the switch."
The text she received from Halifax asking her to contact the switching team is shown below: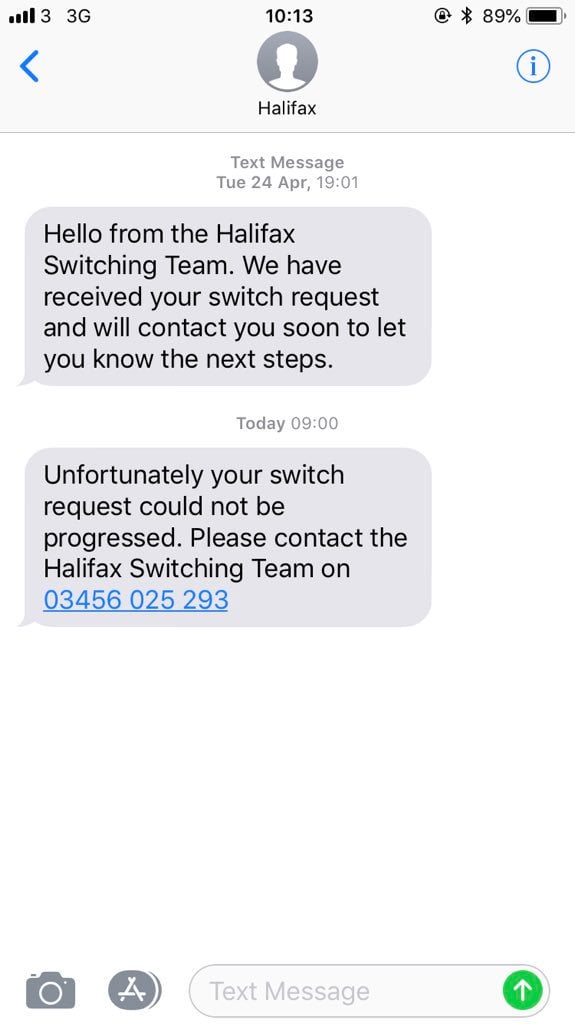 We've asked TSB to explain why Deborah and Hayley were unable to switch and will update this story when we hear back.
I've tried to switch from TSB - what should I do?
TSB says any issues with switching should now be resolved - so if you try to switch this week, it insists you shouldn't experience any problems.
If you tried to initiate a bank switch last week, particularly if you nominated Friday as your switching day, keep in contact with the bank you are switching to, to make sure the switch goes ahead as planned.
If for any reason you were unable to complete your switch, you may need to try again.
The Current Account Switch Service (CASS) says if you have any problems with your switch not processing you should speak to the bank you're switching to, rather than TSB.
How do I switch my bank account?
If you haven't switched bank accounts in the last few years, you'll find that the process is now much quicker and easier than it used to be.
This is because 'seven-day switching' was introduced in September 2013, meaning switching accounts is now – for the majority – quick, easy and completely pain-free. All you need to do is open a new account, then use the bank's switching service to close your old account and move everything across.
Under the scheme (provided your existing bank's signed up – most are), a switch takes seven working days, all payments going in, eg, salary, and out, eg, utility bill direct debits, will be moved to your new account, and any wrongly applied charges to your current accounts will be refunded.
If you haven't tried it, and your bank gives you lousy service, read below for full info, then take a look at our top-pick accounts.
What does TSB say?
A TSB spokesperson said: "On Friday we experienced a temporary issue with customers being able to switch their bank account from TSB to another provider.
"Whilst we implemented a fix, we asked CASS to advise other banks to temporarily hold switching requests from TSB customers for a short period of time.
"The CASS service is now running as normal and customers can continue to switch from TSB. We have informed all CASS participants."