Travellers who snapped up bargain British Airways flights to the Middle East have had their tickets cancelled, after the airline claimed it got the fares wrong.
MoneySavingExpert has seen many complaints from travellers who last week booked cheap BA flights via third-party agents to destinations including Dubai and Tel Aviv, often for £200-£300. In some cases those who'd booked went on to organise separate accommodation.
However BA has now cancelled the tickets after identifying what it insists is an "exceptionally rare" pricing error. It's apologised, refunded the tickets and has offered each traveller a £100 BA voucher to be used via the original travel agent - but those affected believe their tickets should still be honoured, and some are furious they've been left out of pocket.
For full help if something goes wrong when you're booking a holiday, see our Holiday Rights guide.
'Come on BA - do the right thing'
Guy Anker, deputy editor of MoneySavingExpert.com, said: "BA's slogan is 'To Fly, To Serve', but in this case it's refusing to fly these passengers and is refusing to serve their best interests.
"They've bought these tickets in good faith at a believable price - it's not as though the tickets cost £5, which would clearly have been a glitch. Many have budgeted accordingly and booked accommodation and now face big fees to go ahead with their holiday.
"While this may have been a 'rare' error, it's not the passengers' error. So come on BA - do the right thing and let them fly at the price they booked."
'I've been left high and dry'
Anthony Vale, 48, of Cheshire, booked four return tickets from Manchester to Dubai over Christmas and New Year. He spotted them on Skyscanner for £289 per person and clicked through to Netflights.com to book the tickets. He received his e-tickets on 11 June - but was told on Monday his flights had been cancelled.
He said: "At the moment I don't know what I am going to do. My family still want to travel, but all they have offered is £100 per person, and it now costs over £800 per ticket... I booked the BA tickets in good faith and I've been left high and dry."
Mr Vale, who has worked in the travel industry for 20 years, said he knew £289 was a very good price for the flight, but as the next cheapest return flight listed was £325 with a longer stopover, he just assumed he'd found a good deal. He believes BA should honour his tickets.
Since we first published this story on Monday evening we've had more than 20 emails from travellers in a similar sitation. If you've been affected, let us know at news@moneysavingexpert.com.
Joseph, of London, booked four return tickets to Tel Aviv on 11 June. He noticed on 15 June they had disappeared from his BA app, but it wasn't until Monday that he was notified his flights had been cancelled. He had even reserved seats and made his meal choices with BA.
He said: "I had booked accomodation and car hire - at what stage are you safe to book anything if they have always got the option of cancelling?"
Here's a screenshot of his tickets in his BA app: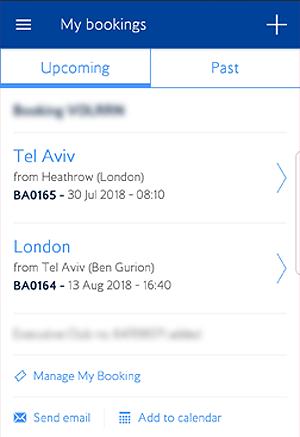 Other passengers have been tweeting about the same issue:
So everyone who bought those amazingly cheap offer tickets from @British_Airways from London to Tel Aviv are now having them cancelled without any notification or instant refund. Way to go British Airways.

— Stamford Hillie (@StamfordHillie) June 15, 2018
@British_Airways
BA, you have cancelled the booking of my flight London Heathrow - Tel Aviv 5 - 12 Sep, and you didn't even informe me.
I only found out through my travel agent.
I had already booked accommodation that cannot be cancelled.
What rights do I have about this?

— Mario Mata (@Mario81000) June 16, 2018
'Exceptionally rare' pricing error to blame
A BA spokesperson told MoneySavingExpert the fares were loaded into a system in error and were "quickly identified" and withdrawn. She confirmed the problem has only affected travellers who booked via third-party sites, rather than direct with BA.
She said the fares were to a number of Middle East destinations but was unable to say which, or reveal how many passengers have been affected.
BA claims the incorrect fares were only on sale for a few hours overnight, but has been unable to give an exact date. Third-party site TravelUp has claimed on Twitter they were available between 5.45pm on 11 June and 11am on 12 June.
The BA spokesperson said: "The fare was only available to a small number of agents over a short period of time, so only a small number of our customers have been affected.
"We have apologised to customers and offered a gesture of goodwill. Errors like this are exceptionally rare, and if they do occur, under contract law, there is no binding contract between the parties."
We've tried to contact some of the third party agents involved, including Netflights.com and TravelUp, but have yet to hear back.
I've been affected - what are my rights?
While BA has offered to refund tickets and issue each traveller a £100 BA voucher to be used via the original travel agent the ticket was booked with, at the moment it's not clear if you're entitled to anything beyond that.
BA is arguing there was no legally binding contract in place - we've asked it to spell out why this was, and at what point it considers a legally binding contract to exist (so a passenger knows a ticket can't be cancelled). It's repeatedly refused to answer these questions.
We spoke to David Bott, founder of leading flight delay solicitors Bott & Co, about the situation. He said that as a general rule for a contract to be legally binding four things are needed:
The intent to create a legal relationship – which in this case would be a contract between BA and the consumer.
An offer – eg, £289 for a return flight to Dubai.
Acceptance – such as the customer agreeing to buy the ticket.
Consideration – this nearly always means payment, but it doesn't have to be and will depend on a company's terms and conditions.
Mr Bott said that on the face of it all four elements appear to be in place - but it is possible for BA to argue that the fares were a "unilateral mistake". This means BA could say the cheaper fares were an obvious mistake and the customer should have realised they were an error.
As both sides could argue the point, Mr Bott said the issue was "a bit of a grey area". Disappointed travellers could complain to BA and ultimately take the firm to the small claims court if they remain unhappy - but there are no guarantees which way the decision would go.
What to try if you lost out
If you grabbed one of the cheap fares and are unhappy with what BA's offered, you can formally complain to the company to see if it will offer any more help.
If you made other travel plans before it cancelled your flight, for instance booking a hotel or car hire, your first port of call should be to contact the company you booked with to see it offers free cancellation, or to explain the situation and see if it can offer any help.
You can also try complaining to BA providing full details of how you've lost out, to see if it will offer any more help. If you're unhappy with its response you can escalate to CEDR, the alternative dispute resolution service BA has signed up to - but it's worth noting there's a £25 fee if your claim is unsuccessful. See our Flight Delays guide for more information.
Also check your travel insurance to see if you're covered for this kind of 'consequential loss', though many policies exclude this. If you booked on a credit card and your ticket was more than £100 you may also be covered under the Section 75 law - though again there is no clear cut rule on consequential losses.
As a last resort, if you're still unhappy with the outcome you could try and argue your case at small claims court, but as stated above, this a grey area of law, and there are no guarantees you will win. See our Small Claims Court guide for more information.