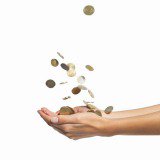 Government-backed savings provider NS&I has reduced the amount savers can put into its fixed savings accounts from £1 million to £10,000.
Customers who open a new account will only be able to put £10,000 into each of NS&I's one-year and three-year Guaranteed Growth Bonds and Guaranteed Income Bonds - but the interest rates will remain the same.
The firm launched the bonds back in December last year, with the unique promise of offering to protect up to £1 million of savers' cash, so this change will be unwelcome for the biggest savers.
See our Top Savings Accounts guide for the best rates.
What's changed?
NS&I's Guaranteed Growth Bond continues to offers savers 1.5% AER for one year or 1.95% AER over three years, while its Guaranteed Income Bond continues to offer 1.46% AER for one year and 1.92% AER for three years.
But the key change is the amount you can invest has been drastically reduced, down from £1 million to £10,000. Savers can open one of each type of bond, and so save £40,000 in total.
While the NS&I Guaranteed Growth Bond and Guaranteed Income Bonds don't pay the best rate on the market, one big boon was the fact that all cash saved up to the £1 million deposit limit was protected by the Government.
With standard UK-protected providers, deposits are safeguarded but only up to £85,000 per financial institution under the Financial Services Compensation Scheme (FSCS) - so reducing the amount you can save to just £10,000 means the bonds will no longer offer extra protection for those with lots of cash to stash. For more on this, see our Savings Safety guide.
What if I've already got the bonds?
NS&I says customers who already have one of the bonds will be able to roll over their cash into the same product they had - even if they've more than £10,000 in there.
For example, a customer who currently has £1 million in a one-year Guaranteed Growth Bond which is about to mature, will be offered the option of rolling over their savings into the same product, and will be able to invest a further £10,000.
What does NS&I say?
Jill Waters, retail director at NS&I, said: "Guaranteed Growth Bonds and Guaranteed Income Bonds have been on sale since 1 December 2017 and have proven extremely popular.
"We are pleased to have given savers over six months to invest larger amounts, but these changes to the investment limit will allow us to manage demand in order to achieve our net financing target for 2018-19, while continuing to deliver positive value to taxpayers.
"The interest rates on both Guaranteed Growth Bonds and Guaranteed Income Bonds will remain unchanged and present a fair offer to savers."