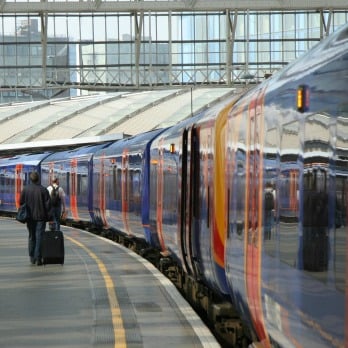 Commuters across Great Britain will see train season ticket costs rise by up to 3.2% next year.
The Retail Prices Index (RPI) measure of inflation over the year to July was 3.2%, the Office for National Statistics announced today, while the Consumer Prices Index (CPI) measure of inflation was 2.5%.
This means the price of regulated rail fares will rise by up to 3.2% in January 2019, as under Government rules, these train fares can only rise in line with the previous July's RPI.
The up to 3.2% rise from next January only applies to regulated tickets though, which includes season tickets, day single and anytime return tickets around major cities and long-distance off-peak return tickets. This accounts for about half of all tickets.
Unregulated fares, such as advance tickets, off-peak leisure tickets and first-class tickets, are set by train companies not the Government.
This year the rise was capped at 3.6% (using the July 2017 RPI rate), the highest hike in five years. The previous year it was 1.9%, and the year before that 1%.
Check out our Cheaper Train Season Tickets guide to see if you can cut the cost of your commute.
What about rail fares in Northern Ireland, Scotland and Wales?
Rail fares are a devolved matter in the UK, so here's what's happening elsewhere:
Northern Ireland: Today's news doesn't affect rail fares as July's RPI isn't used to calculate price changes in Northern Ireland.


Scotland: The July RPI figure is used to determine the rate of increase in regulated fares on ScotRail services. So regulated peak fares will increase by up to 3.2% from January 2019, while regulated off-peak fares will rise up to 2.2% under the formula RPI minus 1%.


Wales: Regulated fare increases will be capped at the 3.2% RPI rate.
'Think outside the box to cut costs'
MoneySavingExpert.com assistant news editor Megan French said: "Commuters, while unlikely to be surprised at today's news, will be left fuming by yet another hike in the cost of getting to work.
"For many, this rise will be unavoidable – though they should at least make full use of the Delay Repay scheme to claim for any delays and cancellations they suffer and get some cash back when things go wrong.
"For some commuters it may also be worth thinking outside the box when it comes to annual travel. For example, check if there are any split tickets available for your route, if you're eligible for a railcard that can be used on peak fares or if you can get cashback on your tickets using loyalty schemes or credit cards."
Anthony Smith, chief executive of watchdog Transport Focus, said: "After a torrid summer, passengers hit by the timetable crisis will be amazed that the talk is about a fares increase! A fares freeze would benefit all passengers, begin the process of rebuilding trust and start to bring passengers back to a railway they can rely on.
"We know less than one third (30%) of rail commuters are satisfied with the value for money of their ticket. Despite substantial investment in new trains and track, many passengers have yet to experience a more reliable railway with accurate information, less disruption and better value for money.
"Transport Focus has also long argued that it's time for a fairer, clearer fares formula based on calculations that use the Consumer Prices Index, rather than the discredited Retail Prices Index."
Save money on train fares
Here are our top tips to help you resist rising rail costs – see our Cheap Train Tickets and Cheaper Train Season Tickets guides for more help:
Check if you can use a railcard on your commute. We found some could save £100s by using their railcard on daily tickets rather than a season ticket.
Consider season ticket 'stoozing'. If you get a season ticket loan, check if you can stash the cash in a savings account for a year, or bag cashback using a charge card or credit card. See season ticket stoozing for full info.
Split your ticket. Imagine you're travelling from London to Sheffield. If the train stops at Derby, check whether it's cheaper to buy a ticket from London to Derby and a second ticket from Derby to Sheffield. It's perfectly legal as long as the train stops at the intermediate station. Use a free split ticketing tool to find out if you can get a cheaper walk-on single fare by breaking down your journey.
Buy in advance. Most train companies put tickets on sale about 12 weeks ahead. So the earlier you book, the more chance you have of getting one of their cheap advance tickets.
Singles can beat returns. If you're booking a return journey, check if two singles are cheaper. It may not always be the case, but it's worth a try.
Get a railcard. Frequent travellers should consider a railcard if they qualify for one. Those aged 16-25, the over-60s, those with disabilities and adults who travel with kids may all qualify. Most railcards cost £30 a year (£20 for disabled people) and get the holder a third off many fares. See our Railcard Deals page for full info.
Look for hidden promos. Lots of train companies have hidden promotions buried on their websites – which you won't find if you're going through a ticket booking website. For a full list of hidden promos, see our Cheap Train Deals page.
What do the rail firms say?
The Rail Delivery Group, which represents train companies, said: "Fares are underpinning a once-in-a-generation investment plan to improve the railway, and politicians effectively determine that season ticket prices should change in line with other day-to-day costs to help fund this.
"While the industry is learning lessons from the recent timetable change, major improvements have been delivered this year from upgraded stations at London Bridge and Liverpool Lime Street to new trains in the south west and Scotland and more will be delivered in the next year.
"We understand that aspects of the current fares system are frustrating for people which is why as part of the industry's plan, train companies are also leading a consultation to update regulation and improve the range of fares on offer, making the system simpler and easier to use for customers."