'I was charged £700 extra using contactless on the tube' – don't be caught out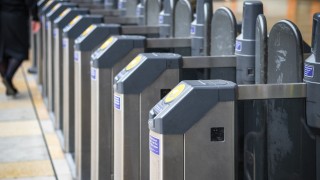 If you use Apple Pay or another mobile payment system on the underground or trains in London, never tap in and out on different devices - even if you're paying on the same card. That's our 'tap-dancing' warning to passengers after one London commuter was shocked to find she'd overpaid by more than £700 for a year's travel.
You can use contactless credit and debit cards and mobile payment devices such as Apple Pay, Google Pay and Samsung Pay to pay for your travel across the Transport for London (TfL) network, as well as TfL's own Oyster cards.
But while most passengers are aware you need to use the same Oyster or contactless card to tap in and out at the beginning and end of tube, overground, DLR and TfL Rail journeys, a lesser-known rule means you also need to use the same device – not just the same card.
So if you have a contactless card which is also registered to a mobile or smart watch (for example, if you use Apple Pay, Google Pay, Samsung Pay or others), don't assume you can use either the card or your mobile phone/smart watch to tap in and out. If you use different devices – even if it's the same card – you could be charged two maximum fares.
One MoneySaver, Grace Savage, recently discovered she'd ran up a whopping £707 in overpayments after travelling for a year while being unaware of the rules. She's now managed to get a refund, but this is far from guaranteed – see Grace's full story below.
For more help on how to get money back if you've overpaid for London travel, see our Oyster card refunds guide.
What happens if you tap in and out on two devices?
Under TfL rules, if you tap in and out with different devices, each tap will be recorded as a separate, incomplete journey – even if you technically make the payment from the same card.
TfL charges passengers the maximum possible fare for incomplete journeys, as it can't see where your journey started or ended, so can't work out how much you should have paid. For example, Grace's TfL records show she paid £16 for a single off-peak journey between Piccadilly Circus and Southwark, which would usually cost £2.40.
Because Grace tapped in and out on different devices, she was recorded as having made two separate journeys – "Piccadilly Circus to unknown" and "unknown to Southwark". Each 'journey' was charged at £8 each, leaving a massive £13.60 overpayment for a single 20-minute trip.
'I'm sure this has happened to a lot of people'
Grace, a musician who lives in London, pays for her travel with a debit card, which she uses both as a contactless card directly and through her Apple Pay account on her phone. Over the past year she's always used the same card, but sometimes tapped in and out with different devices – for example, tapping in on her contactless card and tapping out on her phone.
She told MoneySavingExpert.com she first noticed the unusually high charges when she set up an online TfL account and checked the records for her debit card.
After speaking to TfL's customer service, she was eventually given a refund of £706.56 for her overpayments in 2018.
Grace said: "At first TfL told me it was my responsibility to read the terms and conditions, but in the end they were very helpful in getting my account refunded.
"I'd lost hundreds of pounds to this, and have incurred interest charges from my bank as I'd been using my overdraft – I could have avoided this if I hadn't been paying such high fares every month.
"I'm sure this has happened to a lot of people who may not even be aware of it."
'Think of it as the "tap-dancing" warning'
Steve Nowottny, news and features editor at MoneySavingExpert.com, said: "Think of it as the 'tap-dancing' warning - whatever you do, don't start tapping willy-nilly with different devices when you're travelling around London. Even if it's the same card you're paying with, it's vital you tap in and tap out with the same device too.
"While these rules have been in place for years, as mobile and contactless payments become more common it's clearly catching some out - and if this happens you could pay £100s extra."

How to avoid overpaying
While a £700 overpayment may appear unusual, TfL data shows passengers were charged a total of £67 million in maximum fares in 2017 after failing to tap out properly – so it's well worth reminding yourself of the rules. There's full help on how to pay for your journey with a contactless card or mobile on the TfL website, but in brief:
Always touch in and out at the start and end of a journey, using the yellow reader.


Always use the same device to touch in and out, even if you have different devices which use the same card.


Keep contactless cards, Oyster cards and mobile devices separate to avoid paying twice due to 'card clash'.


If you're using your phone, make sure you have enough battery to tap out to avoid a maximum fare.


Use your TfL account to check if you're owed refunds. Register your Oyster card or debit card online and you'll be able to track your journey history and check if you've been charged for any incomplete journeys.
What does TfL say?
A TfL spokesperson said: "As we have made clear since the introduction of contactless payments on our transport network in December 2012, you must touch in and out with the same device in order to ensure you are charged the correct fare.
"Cards loaded onto a mobile device are treated as a separate device to the associated contactless card and therefore you need to ensure you only use one or the other to complete your journey."
For all the latest deals, guides and loopholes simply sign up today – it's spam-free!
Join the MSE Forum discussion