Lloyds launches new app feature to view current accounts, savings and credit cards all in one place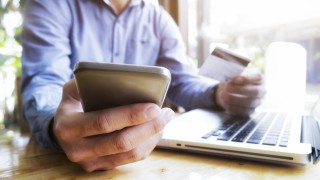 Lloyds Banking Group has launched an app feature that allows customers to view their current accounts, savings and credit cards all in one place – the first of its kind.
Customers with a Lloyds Bank, Halifax or Bank of Scotland current account will now just need to use the one online banking app to get a panoramic view of their finances.
Launched today, the feature is designed to benefit people who have accounts with different providers. Currently, the app is limited to displaying accounts held with Lloyds, Halifax and Bank of Scotland, but the intention is to roll this out so all providers are included.
While the idea in itself isn't new as other providers have done similar using different technology, this latest innovation is the first of its kind. This comes after the introduction of 'Open Banking' in January last year, as well as new legislation called PSD2, which aims to make banking easier and fairer. It means that banks must ensure their customers' data can be shared securely with other banks and third parties if the customer gives permission.
If you're thinking of switching bank, see our Best Bank Accounts and App-based banking guides.
How does it work?
From now on, customers who use the Lloyds, Halifax or Bank of Scotland mobile app to access their current account will also be able to see any savings or credit card details at the same time and in the same place (provided they are also held with either Lloyds, Halifax or Bank of Scotland).
Up to this point, customers could use the app to view current accounts with other providers (but not savings or credit cards). Barclays also added this feature to its mobile app in 2018.
The latest change means that, for example, customers with a Halifax current account can now see their Lloyds Bank credit card or savings account while using the Halifax mobile app.
Initially, the app will be limited to displaying accounts held with banks that are part of the Lloyds Banking Group, but Lloyds says that as other banks and service providers sign up to the service, customers will be able to add these savings accounts and credit cards to the app.
And later this year it will be adding the ability to make payments and move money from other banks' accounts across all three banks' apps.
What else can the app do?
A 24-hour secure messaging service has also been introduced, offering help and support with making payments to travelling abroad directly through the app.
Customers using the app can also choose to block money being spent on certain things, eg, gambling websites.
For more information on the apps offered by high street banks and their different features, see our handy guide.
What is Open Banking?
Open Banking is a series of reforms being brought around how banks deal with your financial information.
In layman's terms, it means all UK-regulated banks have to let you share your financial information (eg, spending habits, regular payments and companies you use – basically your bank, credit card or savings statements) with authorised providers offering budgeting apps, or other banks.
This must be done with your permission, but it is done so that more competition and innovation can be introduced to the financial services, meaning a better experience for the customer.
Is it safe?
Open Banking functionality allows customers to safely and securely see their other accounts in real-time within the mobile banking app, without the need for multiple logins.
Customers can add an account in their online banking app using a secure Open Banking connection – they choose the account provider, log on to the service and select the accounts that they want to share. Login details for other banks are never shared.
Once the security process has been completed, customers have instant access to their accounts and transactions in one place.
For all the latest deals, guides and loopholes simply sign up today – it's spam-free!
Join the MSE Forum discussion