Martin Lewis, Citizens Advice and Facebook launch major initiatives to fight scam ads
Two major initiatives to combat online scam adverts have launched as a direct result of a campaigning defamation lawsuit by Martin Lewis.
Update 24 February 2020: This story was first published back in July 2019 but the info in it still stands.
After issuing High Court proceedings against Facebook, Martin agreed to settle his case out of court, in return for Facebook making a binding commitment to donate £3 million to set up the Citizens Advice Scams Action (CASA) service, to provide one-to-one support. Facebook also agreed to create a scam ads reporting tool, unique to Facebook in the UK.
These initiatives are crucial, as scam ads can have devastating consequences. Placed by criminals, the adverts often use fake celebrity images or endorsements to dupe people into investing in fake 'get rich quick' schemes, buying diet pills, and more.

They can lead to many people being conned out of cash – in the case below a man in his 80s lost almost £50,000 – and have a serious impact on people's mental health and self-esteem.
More than 1,000 scam and misleading ads were taken down as a result of Martin's complaint.
See our Fake Martin Lewis Ads guide for more information.
For all the latest deals, guides and loopholes simply sign up today - it's spam free!
What will the two initiatives do?
Here's how the initiatives will work:
The Citizens Advice Scams Action project has launched – providing one-on-one help for consumers. This new, dedicated online scams service, funded by Facebook's £3 million donation, will give specialist one-on-one help to those worried they're being scammed and those who have already lost money.

It will also do scams prevention work to identify, tackle and raise awareness of online scams in the UK. People who think they have been, or are being, scammed online by ads or other methods can now get help through Citizens Advice Scams Action by calling 0300 330 3003 for one-on-one help, accessing its Scams Action webpage or via web chat.

In England, Scotland and Wales, they'll also be able to get a face-to-face appointment with Citizens Advice. The service is expected to help at least 20,000 people in the first year.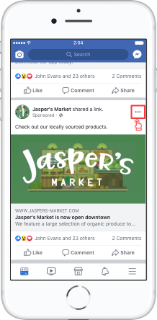 Facebook has launched a new unique-to-the-UK scam ads reporting tool, supported by a dedicated team.

All UK users can flag ads they believe to be scams or misleading by clicking the three dots in the top right corner of every ad on Facebook, pressing 'Report ad', then choosing 'Misleading or scam ad' and then 'Send a detailed scam report'.

This will alert a specially trained internal operations team who will handle these reports, and review and take down violating ads.

That team will also investigate trends to help enforcement, and drive improvements. The tool and team are unique to the UK, as a result of the lawsuit.

The image above on the right shows where you need to click to flag an issue.

Martin: 'The UK faces an epidemic of online scam ads'
MoneySavingExpert.com founder and chair Martin Lewis said: "The UK faces an epidemic of online scam ads – they're everywhere. Yet disgracefully there's little effective law or regulation to prevent them, and official enforcement is poor to non-existent, as these criminals are usually based outside of the EU.
"That's why I sued for defamation, bizarrely the only law I could find to try to make big tech firms understand the damage their negligent behaviour has caused.
"Today should be the start of real improvement. The aim is to tap the power of what I'm dubbing 'social policing' to fight these scams. Millions of people know a scam when they see it, and millions of others don't.
"So now, I'd ask all who recognise them to use the new Facebook reporting tool, to help protect those who don't – which includes many who are vulnerable. Facebook's new dedicated team will then hopefully respond quickly to ditch the scammers.

"Sadly, we have to accept zero tolerance won't mean zero occurrence. But my hope is it'll squash the numbers of scam ads and the time those that do get through are live. This is only happening in the UK, on the back of the lawsuit, yet I suspect Facebook will see its success and soon roll it out to the rest of the world.
"The irony is, with these new tools, Facebook should pull ahead of the pack. Many big tech players don't make it anywhere near as easy for consumers to report scam ads, and they must step up.
"During the lawsuit negotiations I approached Citizens Advice and asked if it'd be willing to help in the fight against scam ads. I was delighted that it was so eager to do it, and that it'd have a couple of years of resources to try to tackle and repair the damage caused by the scourge of scams.
"This is the first time there has been an online scam service, so it may be busy at first. Though it'll soon become a firm fixture in the fight against scam ads.
"However, the resources won't last for ever and I'd call on the other big players, to follow Facebook's lead and put their hands in their pockets to fund CASA, and those who have been victims of scams served on their sites too."
'I couldn't believe it. I lost just short of £50,000'
A man in his 80s, who lost almost £50,000 after investing money in a scam bitcoin trading scheme which claimed to be endorsed by Martin, has spoken of how sophisticated and convincing fraudsters can make their adverts look.
He said: "I'm not sure initially where I saw the link, and I certainly wasn't searching for it. I thought because it said it was endorsed by Dragons' Den I'd look into it and I saw an endorsement from Martin too – at least that's what it appeared. I thought 'well, I'll give that a try'.
"I clicked the link and that's what started it all. I got my information passed on to other 'traders'. I was taken in because one in particular was a very likeable guy, we found common interests and it became that he was sort of like a good friend.
"They told me the American mid-term election [which took place last year] was a fabulous opportunity, so I invested big money. Then I got a call saying I'd lost a lot of money. I've got no details on exactly what it was and how it worked – but it went pear-shaped.
"I tried on several occasions to withdraw money after this stage but there was no response and I wasn't getting calls from them. Then I realised I didn't know what to do. I got in touch with Citizens Advice and I got a reply, not directly from them, but from Trading Standards at my council. An officer came out and discussed it with me. She eventually came back and told me there was virtually nothing I could do and that all the calls were scams.
"I couldn't believe it. It was just short of £50,000. I won't say it was all my life's savings but it was a big part. I realise how ridiculous it was now, but I was looking forward to having that money if I wasn't able to look after myself in future, that would mean I'd be able to afford something a little bit better for my residential care. Or alternatively if I didn't need it I could spend it on my grandchildren and their further education.
"It's so sophisticated, their webpages looked so genuine. When it said Dragons' Den was apparently endorsing it, that was good, but Martin's apparent endorsement clinched it for me."
What do Facebook and Citizens Advice say?
Gillian Guy, Citizens Advice chief executive, said: "We know online scams affect thousands of people every year. We're pleased the agreement between Martin Lewis and Facebook meant we could set up this dedicated service to give more help to people who have fallen victim to online scams."
Steve Hatch, Facebook's vice president for northern Europe, said: "Scam ads are an industry-wide problem caused by criminals and have no place on Facebook. Through our work with Martin Lewis, we're taking a market-leading position and our new reporting tool and dedicated team are important steps to stop the misuse of our platform.
"Prevention is also key. Our £3 million donation to Citizens Advice will not only help those who have been impacted by scammers, but raise awareness of how to avoid scams too. At a global level we've tripled the size of our safety and security team to 30,000 people and continue to invest heavily in removing bad content from our platform."
For all the latest deals, guides and loopholes simply sign up today – it's spam-free!
Join the MSE Forum discussion