Can you leave work if it's too hot? Your rights in the heatwave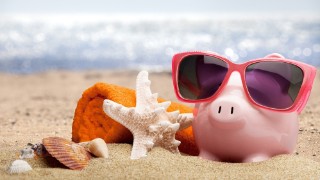 Britain is currently being hit by a summer heatwave, with temperatures topping 30°C in some places. Working in these temperatures can be uncomfortable, so if you're struggling, here's what you need to know.
Can I say it's too hot to work? Unfortunately, there's no guidance for a maximum temperature in the workplace. The Workplace (Health, Safety and Welfare) Regulations 1992 are pretty vague, simply saying "during working hours, the temperature in all workplaces inside buildings shall be reasonable".

The definition of reasonable varies depending on where you work – for example, it's likely to be hotter in a glassworks or bakery than in an office.
Ultimately, if you feel the temperature at work isn't comfortable or reasonable, the Government's guidance is that you should talk to your employer and it should then carry out a risk assessment.
See 15 MoneySaving tips to beat the summer heatwave for more help staying cool.
Can I work flexibly? By law, all employees who have worked for their employer continuously for 26 weeks (half a year) have the right to ask if they can work flexibly – that might be to do with hours, times or place of work – regardless of the heat. Some employers are more relaxed on this and allow newer employees to make requests too.
If you struggle with the heat, it may be worth asking if you can work from home, or even if you can work with more breaks throughout the day – your employer must have a sound business reason for rejecting the request.
Again, technically, employees can only make one request each year, but in practice some employers may be more relaxed towards this.
What can I do if my travel plans are disrupted due to the heat? Summer transport problems can arise in excessive heat – with hundreds of trains being cancelled over the last few years due to hot weather.
It's worth checking your route throughout the day on your train firm's social media, the National Rail website, or by signing up for Facebook Messenger alerts. Train firms sometimes announce timetable amendments due to the heat, so you could try to ask your employer if you can leave early if cancellations are due to start later in the day (though legally it wouldn't be obliged to say yes).
Remember, in most cases you can claim compensation for delays of 30+ mins (or 15+ in some cases, or in one case even 2+), regardless of cause. See our Train Delays guide for full info.
Can I change what I wear in summer? Most employers have a dress code. While employers are under no obligation to relax their dress codes or uniform requirements during hot weather, it's worth asking your employer if it'll allow you to wear more casual, or cooler clothes, such as shorts.
In some environments this might not be practical, for example, if you have to wear certain clothes for health and safety reasons, but in other situations, it may be feasible.
Does my employer have to provide drinking water? Employers must provide you with suitable drinking water in the workplace, regardless of the temperature.
I'm out and about, where can I get water? The free Refill app lists more than 20,000 businesses – cafés, restaurants, shops, hotels and more – which let you fill up your bottle or flask even if you're not a customer, across 100-odd parts of the UK.
For all the latest deals, guides and loopholes simply sign up today – it's spam-free!