Apple announces new iPhone 11 and 11 Pro – how to find the cheapest pre-order deals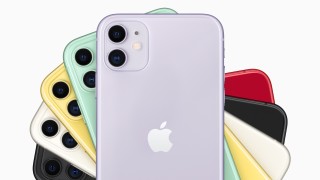 Tech giant Apple has unveiled its new premium handset range, the iPhone 11, the 11 Pro and 11 Pro Max, while cutting the price of the now older iPhone XR and iPhone 8. Buying a new handset is never cheap, but if you're determined to get one, we've our top picks of the pre-order deals below.
Of course, buying a new iPhone is never MoneySaving, and early adopters usually pay the most. But if you're desperate to get your hands on the latest handset anyway, make sure you buy it as cheaply as you can.
The iPhone 11, 11 Pro and 11 Pro Max are now available to pre-order, ahead of the on-sale date next Friday (20 September). See our round-up of the best pre-order deals, where buying in the wrong way could cost you an extra £464 over two years.

The iPhone 11 Pro Max – the premium model – features a triple lens rear camera, a 6.5 inch screen and the "toughest glass in a smartphone", which is reflected by a £1,149 starting price, which rises to £1,499 for the 512GB storage version.
The iPhone 11 is the relative 'budget' version, with a starting price of £729. It features many of the same specifications as the two Pro models but has a shorter battery life, a dual lens camera and an LCD screen – unlike the OLED (organic light-emitting diode) screen of the iPhone Pro models.
For full info on cutting the cost of an iPhone, see our Cheap iPhones guide.
How to cut the cost of buying a brand new iPhone
As we've said, a new iPhone won't come cheap, so carefully consider if you really need the latest model, as your current phone is likely to be perfectly adequate. But if you are set on one, here's how you can try to keep the cost down:
Wait a few weeks. Based on what we've seen in previous years, handsets are initially very expensive but prices may drop a little after launch, as the market settles and cheaper deals come through. This applies particularly to contracts, though upfront prices are less likely to move – but the longer you wait, the better the deals are likely to be.


Do you really need the latest model? The prices of previous iPhone models have come down today (see below), so if you want a fancy smartphone but aren't fussed about having the very latest model, this is a cheaper way to get your hands on one.


Avoid paying for extra storage you don't need. There's a real price difference when it comes to storage, eg, a top-end 512GB iPhone 11 Pro Max is £350 more than the 64GB model. Don't buy more iPhone than you'll really use. See How to increase phone storage for free.


Contract deals can be the cheapest way – though never just go direct to the network. Historically we'd always say if you have the cash, then as a rule it's cheaper to buy a new mobile phone upfront and pair with a cheap Sim, as two-year contracts generally come at a hefty mark-up. Yet recently special deals from cheap mobile resellers such as Mobiles.co.uk (part of Carphone Warehouse) and MobilePhonesDirect can undercut the cost of buying upfront – though deals direct from the big networks are almost never competitive, so always compare before signing up. See below for our pick of the top pre-order deals.


Prefer to buy upfront? Spread the cost of a new iPhone interest-free. The iPhone Payments scheme, which allows you to spread the cost of a new phone over 20 months interest-free, will work with all three new iPhones. After an initial payment of £69, you pay a set amount each month – from £33 for the 64GB iPhone 11, to £71.50 for the 512GB iPhone 11 Pro Max – for 20 months. This is only available in the Apple store, and you'll be credit-checked – see more on how the scheme works.
Prices for the iPhone XS and other older models cut
As usually happens whenever new iPhones are launched, Apple has also slashed the cost of its existing handsets (all based on 64GB models when bought direct from Apple, though we expect other retailers to quickly follow suit):
The iPhone XR is now £629, down from £749.
The iPhone 8 is £479, down from £599.
The iPhone 8 Plus is £579, down from £699.
See our Cheap iPhones guide for our current top pick deals for the above models.
Still sure you want the latest model? How different ways of buying the iPhone 11 compare
To show the savings you can make buying in the right way, we've compared the current prices for an iPhone 11 using the different purchasing options outlined above.

To compare the cost of handset plus allowance, we've used iD Mobile's £8/mth Sim with 4.5GB data + 500 minutes and unlimited texts as a benchmark (as most use under 3GB each month), and used networks' closest deals where there's no direct equivalent.
Right now, the cheapest way we can find to get the iPhone 11 with a 4-5GB data allowance is on a 24mth contract with O2 via Mobiles.co.uk (part of Carphone Warehouse). Yet buy the exact same deal from O2 direct and you'll pay a stonking £464 more over two years.
Deal
Upfront cost
Monthly cost (ii)
Data allowance
Total over 24mths
24MTH CONTRACT VIA RESELLER (iii)
O2 (via Mobiles.co.uk*)
£330
£24
5GB
£906
Vodafone (via Mobiles.co.uk*)
£340
£24
5GB
£916
EE (via Mobiles.co.uk*)
£395
£23
4GB
£947
BUY OUTRIGHT + iD MOBILE SIM (iv)
Apple (outright)
£729
£8
4.5GB
£921
24MTH STANDARD CONTRACT
Three (direct)
£49
£41
4GB
£1,033
Vodafone (direct)
£49
£52
5GB
£1,297
O2 (direct)
£30 (v)
£55.82 (v)
4GB
£1,370
EE (direct)
£100
£54
4GB
£1,396
As always, it's worth checking if cashback is available on these types of deals. See our Top Cashback Sites guide for more information. Remember you can also trade in your old handset for cash – check our Sell Old Mobiles guide for tips.
Selling your old iPhone? Do it soon
Trends from previous years suggest that the value of your old iPhone usually drops after a new model's announced, and then falls further again shortly after new models go on sale in the UK.
When selling an old phone, always compare the prices offered by the big reselling sites using a mobile-phone recycling price-comparison service, or go it alone and flog it on eBay, where you can often sell for more. See our Sell Old Mobiles guide for full tips on ensuring you get the best price.
Get Our Free Money Tips Email!
For all the latest deals, guides and loopholes - join the 12m who get it. Don't miss out
Join the MSE Forum Discussion
Have your say
This is an open discussion but the comments do not represent the views of MSE. We want everyone to enjoy using our site but spam, bullying and offensive comments will not be tolerated. Posts may be deleted and repeat offenders blocked at our discretion. Please contact fbteam@moneysavingexpert.com if you wish to report any comments.