Thomas Cook stops trading – latest info and your rights
Holiday giant Thomas Cook stopped trading and entered compulsory liquidation last month, resulting in 100,000s losing holidays and redundancy for 1,000s of members of staff. If you had a future booking which was protected by ATOL, you can now apply for a refund via a new website – see below for the latest info and full details of your rights.
In total, more than 150,000 British travellers have been brought back to the UK in the wake of the company's collapse, while over one million customers may have lost future bookings. Some 21,000 employees of the 178-year-old firm, including 9,000 in the UK, have sadly been left facing redundancy.
Here's what MoneySavingExpert.com founder Martin Lewis had to say in the immediate aftermath of Thomas Cook's collapse on Monday 23 September.

Martin: 'It's going to be a stressful time for many'
Martin Lewis, founder of MoneySavingExpert.com, said: "This is a sad day for staff and customers of Thomas Cook. It's going to be a stressful time for many people – MoneySavingExpert will be regularly updating this detailed help guide as we continue to learn more from officials and travellers.
"For those who'd booked future trips, ATOL and ABTA schemes should mean full refunds, but some, especially those who booked flights only, may be unprotected. Travel insurance won't help for most, as travel company failure cover is rarely included as standard – though check your policy or give them a call.
"If you did book without travel industry or insurance protection, the next route is your card provider. Those who paid more than £100 on a credit card get Section 75 legal protection – which means the card firm is jointly liable with the retailer, so you can get your money back from it. However, this may not work if you booked via an agency, as that break in the direct transactional relationship can stop it working – we wait to see how widespread that problem will be.
"If that happens, or you paid by debit card, instead ask your bank to do a 'chargeback'. This isn't a legal protection – it is a Visa, Mastercard and Amex rule where your bank gets your money back from Thomas Cook's bank as you didn't receive what you paid for. It should work for most people. Those who paid by other methods such as cheques or cash have very little protection sadly."
The CAA launched a massive repatriation scheme to return Thomas Cook travellers back to the UK, but this was only available to those who were due to fly back by Sunday 6 October, and it's now closed.
This depends on whether or not you have ATOL protection:

If you're ATOL-protected, the CAA says it will allow you to claim "reasonable expenses". It has guidelines on what these include – for example, if your replacement flight took off 4-8 hours after your original Thomas Cook flight, it says you can claim up to £16 per passenger for food and drink, plus up to £5 per booking for phone charges and up to £20 per booking for car parking.

If your replacement flight took off the day after your original flight, the CAA tried to extend your stay with your hotel or may have asked you to book a new hotel. Now you can reclaim the cost (again, it says this must be "reasonable").

To make a claim for these expenses, you'll need to provide copies of your receipts and ATOL certificate. See the CAA's Thomas Cook page for more guidance on what you can claim for and our section in this guide on how to submit claims.


If you've not got ATOL protection, if you flew home on the repatriation scheme, you won't be able to claim from the ATOL scheme for out-of-pocket expenses. Check with your travel insurer to see if you're covered, or if your initial booking was on a credit card you may also be able to try a Section 75 claim, though this is far from guaranteed.

As an absolute last resort, if you're in dire straits with no access to any alternative help, try contacting the CAA's helpline (+44 1753 330 330 from overseas) – though again, there's no guarantee it'll be able to help.


If you paid for your holiday on a credit or debit card and don't get what you paid for, you may be able to claim from your card provider using Section 75 or chargeback – see more on how this works below.

However, if you used the CAA's repatriation scheme to fly home, UK Finance – the trade association for banks – says that you can't use Section 75 or chargeback to reclaim the cost of the Thomas Cook flight home which you weren't able to take.

However, it says you may still be able to use Section 75 to claim for additional related and reasonable costs you incur as you travel back home.
While most Thomas Cook customers who were abroad at the time of the company's collapse will now be back, if you're still overseas here are the other key need-to-knows: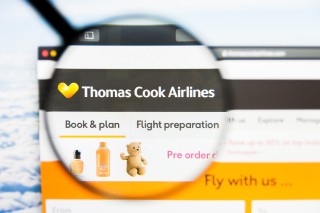 If you weren't due to return by Sunday 6 October, you'll have to make your own travel arrangements. The CAA says you will have to organise your own transport home. If you have ATOL protection, you will be reimbursed for the cost of your new flight. See more details on the CAA website.

All package holidays that include a flight are covered by ATOL. Some flight-only bookings will also have ATOL protection, though many won't – see more on flight-only booking ATOL protection below. Some 'DIY packages' which only include a flight from Thomas Cook may also have ATOL protection – see full DIY package help below.

If your holiday is protected, you should have received an ATOL certificate along with your booking (if you booked directly with Thomas Cook, it will be on the final page of your documents).


Some hotels may want you to pay, or even leave (you shouldn't pay). If you are currently abroad on an ATOL-protected package holiday with Thomas Cook, the CAA says it'll try to ensure you can remain at your current hotel. But if you are facing difficulties, for example if the hotel's asking for additional payment, ring the CAA's hotline on +44 1753 330 330 and don't make a payment unless the CAA tells you to.

If the CAA is not successful in negotiating with your hotel, it says it may need to relocate you to another hotel. In these circumstances, the CAA will inform other suppliers – such as transfers – of the change to your accommodation and flight details. See more on accommodation help on the CAA's website.

What's actually happening here is that hotels are usually paid by Thomas Cook after your stay, so they haven't had their money yet and are worried. The ATOL protection will cover the hotel firm from the Monday which Thomas Cook went bust. Hotels were normally paid by Thomas Cook after your stay. If you were staying before that period, then the hotel is supposed to try and claim any money owed from Thomas Cook's administrators – but that means they won't likely get much.

Technically this isn't your problem, it's the hotel's – you paid for a service, it agreed a contract with Thomas Cook and the risk is its. Unfortunately, life doesn't always work like that and hotel owners/managers overseas may take a very different attitude. The most important thing to do is be safe.

So if you're being pushed to pay again, first try and call the CAA – also, if possible get the British Embassy involved. Yet if you're not safe, then pay and you can reclaim "reasonable out-of-pocket expenses" from ATOL/the CAA later (though only for costs incurred from the day Thomas Cook ceased trading – so Monday 23 September). Do ensure you get a receipt and proof of payment (as much as possible).


On a package holiday without flights? You should be able to continue your trip. Customers who are currently overseas on a package holiday that does not include a flight are protected, and trade body ABTA says you should continue your holiday as normal. If the hotel asks you to pay again or you have other problems, ABTA has a helpline on 0330 135 9870.

For all the latest deals, guides and loopholes simply sign up today – it's spam-free!
Join the MSE Forum discussion